BuzzFeed Names the 32 Best Fantasy Books Of 2015
BuzzFeed Names the 32 Best Fantasy Books Of 2015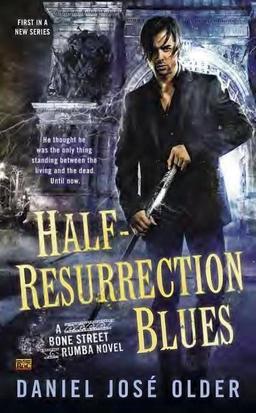 Ah, the end of the year, when Best of the Year lists start to arrive in earnest, and we learn which novels are jockeying for front-runner status for major awards. Most lists limit themselves to 10, but this week the editors at BuzzFeed bravely cataloged "The 32 Best Fantasy Books Of 2015." Their list includes plenty of titles we've enthused about at Black Gate in the past few months, including The Fifth Season, by N.K. Jemisin, Six of Crows by Leigh Bardugo, Archivist Wasp by Nicole Kornher-Stace, The Sorcerer of the Wildeeps by Kai Ashante Wilson, and Twelve Kings in Sharakhai by Bradley P. Beaulieu. It also highlights a few we've somehow overlooked, such as Daniel José Older's Half-Resurrection Blues, the opening novel in his Bone Street Rumba series:
A dark urban fantasy that explores the world between dead and living through the eyes of Carlos Delacruz, an agent of the New York Council of the Dead who, as an "inbetweener," knows a little something about both worlds. Delacruz works to solve a mystery that threatens to bring these two worlds dangerously close together in this engaging beginning to a promising new series.
And Silvia Moreno-Garcia's Signal to Noise:
The charming debut novel from Silvia Moreno-Garcia alternates between 1988 and 2009 in Mexico City to uncover the circumstances behind why heroine Meche's beautiful childhood friendships fell apart, and whether there is a chance she can mend these broken bonds. Meche's ability to cast spells using songs makes this fascinating read as much a meditation on the incredible power of music as it is an exploration of why some friendships disintegrate, and whether they can be put back together again.
The list was compiled by Tanner Greenring, Isaac Fitzgerald, and Jack Shepherd on the BuzzFeed Staff. Read the complete article here.