December 2015 Asimov's Science Fiction Now on Sale
December 2015 Asimov's Science Fiction Now on Sale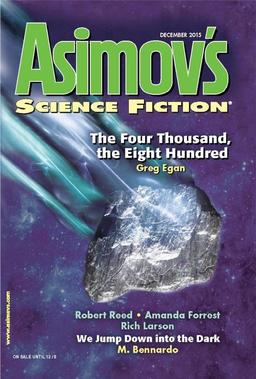 The December issue of Asimov's Science Fiction contains a big new novella from Greg Egan, plus stories by M. Bennardo, Robert Reed, Rich Larson, and others. Here's the description from the website:
You'll find a brilliant new novella from Hugo-Award–winning author Greg Egan in our December 2015 issue. The tale combines awesome concepts for putting the asteroid belt's orbital mechanics to work for humanity with the staggering cost of a civil war on Vesta. You won't soon forget the brave men and women who struggle to survive in "The Four Thousand, The Eight Hundred."

Hugo-Award–winning author Robert Reed considers the stark implications of the Fermi Paradox in "Empty"; new to Asimov's author Rich Larson has a gleeful take on an audacious "Bidding War"; new author Julian Mortimer Smith maroons a young man off the Labrador coast with an unearthly "Come-From-Aways"; newish author Garrett Ashley continues the nautical theme with a story about thrill-seeking boys who tempt fate by "Riding the Waves of Leviathan"; another newish author, Amanda Forrest, escorts us into the Himalayas for the bittersweet tale "Of Apricots and Dying"; and M. Bennardo contemplates a very bad decision in "We Jump Down Into the Dark."
Non-fiction this month includes Robert Silverberg's Reflections column, which examines Non-Asimovian Robots; Peter Heck's On Books, which looks at new books by James Morrow, Peter F. Hamilton, Carolyn Ives Gilman ("put Gilman on your list of writers to watch"), Alan Smale, and others; an editorial by Sheila Williams, and poetry.
Sheila Williams editorial, "The Year in Novellas," take a fascinating look back at the nine novellas published in Asimov's this year. Here's a snippet:
February brought us something rather different — the nightmarish and almost surreal "On the Night of the Robo-Bulls and Zombie Dancers" by Nick Wolven. In a land of the sleepless, this lawless journey from New York City's Wall Street to somewhere in the Seventies, though a much shorter trip, reminded me of Roger Zelazny's Damnation Alley. Reviewing it on his blog, British author Alistair Reynold's said "the story itself is magnificent, one of the best I've read in quite a while. It's a kind of Conradian Heart of Darkness/Apocalypse Now-type quest." He added that the tale was "a tour de force of sustained, high-energy invention, and some quite phenomenal writing." Sam Tomaino of SFRevu agreed, saying the story will "be on my Hugo short-list for 2015 Novellas!"

Another of Sam's favorites was "Inhuman Garbage" by Kristine Kathryn Rusch, which appeared in our March issue. In his review, Sam said it would be another novella for his Hugo Short list. He added, "We get some surprising revelations in a story rich with intrigue mixed with science fiction and police procedural. Rusch is so good at this sort of thing." In Locus, Gardner said, "Rusch shows the chops she developed wearing her other hat as a mystery writer, and expertly handles the investigation… It would be possible to imagine someone shrugging and saying to the disillusioned detective, 'It's Chinatown — except on the Moon.'"…

July brought us an intriguing story of betrayal, romance, and the effect of time travel on alien reproduction by Derek Künsken. "Pollen from a Future Harvest" is set in the same universe as Derek's earlier, Readers'-Award-winning novelette "The Way of the Needle" (March 2012). Gardner commented that, "the novella also gets high marks from me for featuring another set of really alien aliens."
I haven't read most of the novellas this year, and this is a great teaser. I especially liked the included review quotes. I hope this editorial becomes a tradition.
Here's the complete Table of Contents, with links to story excerpts and online content.
NOVELLA
"The Four Thousand, the Eight Hundred," Greg Egan
NOVELETTES
"Empty," Robert Reed
"Of Apricots and Dying," Amanda Forrest
SHORT STORIES
"We Jump Down into the Dark," M. Bennardo
"Riding the Waves of Leviathan," Garrett Ashley
"Bidding War" Rich Larson
"Come-From-Aways," Julian Mortimer Smith
POETRY
"Slicing Tiime," Bruce Boston
"Shatter," Jane Yolen
"Circumstantial Evidence of Time Slippage," Robert Frazier
"Magic in the Air," Filip Wiltgren
DEPARTMENTS
Editorial: The Year in Novellas, Sheila Williams
Reflections: Non-Asimovian Robots, Robert Silverberg
Next Issue
On Books, Peter Heck
The SF Conventional Calendar, Erwin S. Strauss
The December issue went on sale October 27. It will be on sale until December 8.
Asimov's Science Fiction is edited by Sheila Williams and published by Dell Magazines. The cover price is $4.99 for 112 pages; a one-year subscription is $34.97 (US) or $49.97 (International). It is also available in a variety of digital formats. Check out the complete TOC, story excerpts, and additional free content at the website.
We last covered Asimov's SF here with the October/November 2015 issue.
Our mid-October Fantasy Magazine Rack is here. See all of our recent fantasy magazine coverage here.