Beneath Ceaseless Skies 178 Now Available
Beneath Ceaseless Skies 178 Now Available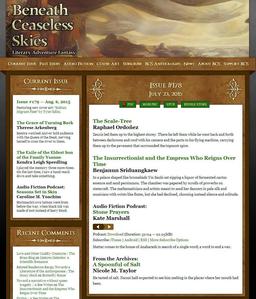 Beneath Ceaseless Skies #178 has a new story by Raphael Ordoñez, author of "Day of the Dragonfly" (and the novel Dragonfly, featuring the same character), and Benjanun Sriduangkaew, better known as notorious blogger Requires Hate, subject of Laura J. Mixon's Hugo-nominated "Report on Damage Done by One Individual Under Several Names." It also features a podcast by Kate Marshall, and a reprint from Nicole M. Taylor.
"The Scale-Tree" by Raphael Ordoñez
Zeuxis led them up to the highest storey. There he left them while he went back and forth between darkroom and roof with his camera and the parts to his flying machine, carrying them up to the pavement that surrounded the topmost spire.

"The Insurrectionist and the Empress Who Reigns Over Time" by Benjanun Sriduangkaew
In a palace shaped like bromeliads Yin Sanhi sat sipping a liquor of fermented cactus essence and sand persimmon. The chamber was papered by scrolls of proverbs on statecraft. The mathematicians and artists meant to send her dancers in pale silk and musicians with wrists like flutes, but she had declined, choosing instead silence and solitude.

Audio Fiction Podcast: "Stone Prayers" by Kate Marshall
Mattar comes to the house of Anaharesh in search of a single word; a word to end a war.

From the Archives: "A Spoonful of Salt" by Nicole M. Taylor (from BCS #79, October 2011)
He tasted of salt. Naomi half-expected to see him melting in the places where her mouth had been.
Issue 178 was published on July 23, 2015. Read it online completely free here.
Beneath Ceaseless Skies is edited by Scott H. Andrews and published twice a month by Firkin Press. Issues are available completely free online; you can also get a free e-mail or RSS subscription.
Firkin Press also sells a Kindle/e-Reader subscription, which includes automatic delivery to your Kindle or other device. A 12-month subscription comes with 26 issues and costs only $13.99. Single issues are available on Kindle and at Weightless Books for 99 cents. Subscribe here.
The magazine supports itself though subscriptions, and also by selling anthologies, including the annual Best of BCS volumes and occasional themed books such as the steampunk anthology Ceaseless West. The anthologies each contain 15-18 stories and cost only $2.99-$3.99.
The cover art this issue is "Migration" by Julie Dillon.
We last covered Beneath Ceaseless Skies with issue 177.
See our August Fantasy Magazine Rack here, and all of our recent magazine coverage here.