The New Dungeons & Dragons Movie Will Be Set in The Forgotten Realms
The New Dungeons & Dragons Movie Will Be Set in The Forgotten Realms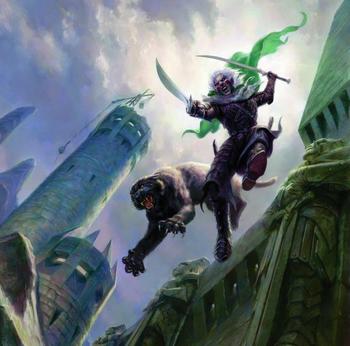 We're learning more about the new Dungeons & Dragons movie announced by Warner Bros. this week.
The first D&D movie, produced by New Line Cinema in 2000, was an epic failure (and its sequel was even worse), but this film will be produced by the studio behind The Lord of the Rings and the Harry Potter franchises, which has been on the hunt for a premium fantasy property for some time. An ongoing lawsuit over ownership of the D&D film rights prevented the project from going ahead, but Variety reports that dispute has finally been resolved.
A movie based on the widely popular game Dungeons & Dragons is in the works at Warner Bros., the studio announced Monday, 10 months after a trial over who owned the rights to the fantasy game ended.

After months of negotiation, Warner Bros., Hasbro's Allspark Pictures and Sweetpea Entertainment said they had come to an undisclosed arrangement, ending the 2-year-old lawsuit, and are moving forward with the feature film franchise. David Leslie Johnson (The Conjuring 2) has already written the screenplay set in the D&D fantasy world of [The] Forgotten Realms. Hasbro's Brian Goldner and Stephen Davis, Sweetpea Entertainment's Courtney Solomon and Allan Zeman, and Roy Lee (The Lego Movie) are producing the high-priority project.

"This is far and away the most well-known brand in fantasy, which is the genre that drives the most passionate film followings," said Greg Silverman, Warner Bros. president of creative development and worldwide production. "D&D has endless creative possibilities, giving our filmmakers immense opportunities to delight and thrill both fans and moviegoers new to the property…"
The Forgotten Realms, created by Ed Greenwood in 1987, is home to the drow ranger Drizzt Do'Urden, the mighty wizard Elminster, and countless other famous D&D characters. It has been featured in over 200 novels and countless adventure modules and supplements.
Read the complete article at Variety.