Vintage Treasures: Timeless Stories for Today and Tomorrow, edited by Ray Bradbury
Vintage Treasures: Timeless Stories for Today and Tomorrow, edited by Ray Bradbury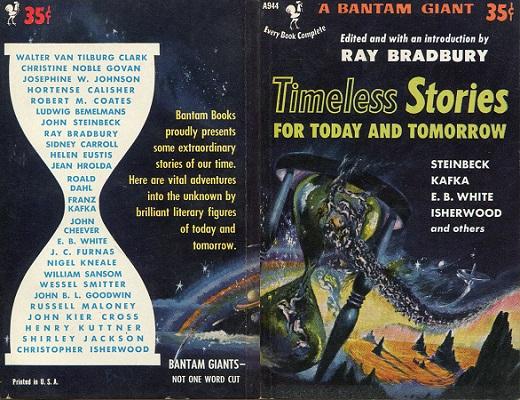 Ray Bradbury is known primarily as a writer, and as one of the most gifted fantasists of the 20th Century. But in his 70+-year career, he also edited a handful of anthologies. The first of these, Timeless Stories for Today and Tomorrow, originally published as a Bantam Giant paperback original in 1952, was also the most popular, with multiple reprintings and editions over the next two decades.
Most SF and fantasy anthologies in the forties and fifties drew heavily from pulp sources. Bradbury's approach was very different. His fat, 306-page anthology collected classic and contemporary fantasies originally published in The New Yorker, Charm magazine, Harper's magazine, and other more literary sources, and included such writers as John Steinbeck, Franz Kafka, E. B. White, John Cheever, Roald Dahl, Shirley Jackson, and Henry Kuttner and C. L. Moore.
Timeless Stories for Today and Tomorrow was published in 1952 with a wraparound cover (above, cover artist uncredited). It was reprinted several times, starting in 1961, with a new cover (also uncredited, below left).
[Click for bigger images.]
Bantam Books reprinted the book two more times, in 1967 (above middle) and 1970 (right). The 1970 edition reuses the 1967 artwork (part of it, anyway), with the new standardized design Bantam introduced for Bradbury's entire back catalog, featuring an image of the author.
Bantam wasn't particularly good at crediting their cover artists — none of the artists for these editions are currently known.
The last edition was in August 1977; the book has now been out of print for almost 40 years. There is no digital edition. Copies are available online for around the price of a new paperback.
Here's the complete table of contents:
Introduction by Ray Bradbury
"The Hour After Westerly" (1947)by Robert M. Coates
"Housing Problem" (1944) Henry Kuttner and C. L. Moore
"The Portable Phonograph" (1941) by Walter Van Tilburg Clark
"None Before Me" (1949) by Sidney Carroll
"Putzi" (1935) by Ludwig Bemelmans
"The Daemon Lover" (1949) by Shirley Jackson
"Miss Winters and the Wind" (1946) by Christine Noble Govan
"Mr. Death and the Redheaded Woman" (1950) by Helen Eustis
"Jeremy In the Wind" (1949) by Nigel Kneale
"The Glass Eye" (1944) by John Keir Cross
"Saint Katy the Virgin" (1938) by John Steinbeck
"Night Flight" (1944) by Josephine W. Johnson
"The Cocoon" (1946) by John B. L. Goodwin
"The Hand" (1947)by Wessel Hyatt Smitter
"The Sound Machine" (1949) by Roald Dahl
"The Laocoön Complex" (1937) by J. C. Furnas
"I Am Waiting" (1939) by Christopher Isherwood
"The Witnesses" (1944) by William Sansom
"The Enormous Radio" (1947) by John Cheever
"Heartburn" (1951) by Hortense Calisher
"The Supremacy of Uruguay" (1933) by E. B. White
"The Pedestrian" (1951) by Ray Bradbury
"A Note for the Milkman"(1950) by Sidney Carroll
"The Eight Mistresses" (1937) by Jean Hrolda
"In the Penal Colony" (1919) by Franz Kafka
"Inflexible Logic" (1940) by Russell Maloney
Timeless Stories for Today and Tomorrow was originally published by Bantam Books in September 1952. It is 306 pages, priced at 35 cents. The cover artist is uncredited.
See all of our recent Vintage Treasures here.