July/August Magazine of Fantasy & Science Fiction now on Sale
July/August Magazine of Fantasy & Science Fiction now on Sale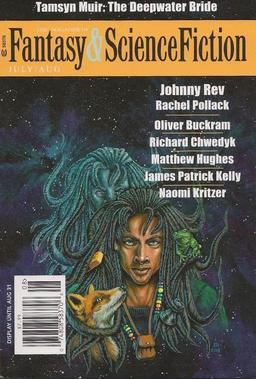 New editor C. C. Finlay seems to be settling in nicely. His first effort as editor, the July-August 2014 issue of F&SF, produced a Nebula Award, for Alaya Dawn Johnson's "A Guide to the Fruits of Hawai'i." It's too early to see if his second, the May-June issue, will fare as well, but it did includes good stories from David Gerrold, Albert E. Cowdrey, Sarah Pinsker, Amy Sterling Casil, and others, so things look promising.
And so on to the third issue, with stories by Rachel Pollack, Richard Chwedyk, James Patrick Kelly, Naomi Kritzer, an Archonate story featuring Cascor the discriminator by Matthew Hughes, and others. Martha Burns reviews the fiction at Tangent Online, saying "The Deepwater Bride" by Tamsyn Muir "gives us some of what P.G. Wodehouse gave us with Bertie Wooster's zippy argot… brilliant."
Here's the complete Table of Contents.
NOVELLAS
"Johnny Rev" – Rachel Pollack
NOVELETS
"The Deepwater Bride" – Tamsyn Muir
"The Body Pirate" – Van Aaron Hughes
"The Curse of the Myrmelon" – Matthew Hughes
SHORT STORIES
"Dixon's Road" – Richard Chwedyk
"Oneness: A Triptych" – James Patrick Kelly
"This Quintessence of Dust" – Oliver Buckram
"Paradise and Trout" – Betsy James
"The Silicon Curtain: A Seastead Story" – Naomi Kritzer
"Into the Fiery Planet" – Gregor Hartmann
Departments this issue include book reviews by Charles de Lint and James Sallis, film reviews from Kathi Maio, a Science article on time travel by Pat Murphy and Paul Doherty, Paul Di Filippo's "Plumage From Pegasus" column, cartoons by Arthur Masear, Arthur Masear, Frank Cotham, J.P. Rini, Danny Shanahan, and a Curiosities column by the great Bud Webster. The cover is by Jill Bauman, illustrating "Johnny Rev."
The Magazine of Fantasy and Science Fiction is edited by C.C. Finlay, and published by Gordon van Gelder. The cover price is $7.99 for a thick 258 pages. Check out the complete TOC and additional free content at the F&SF website.
We last covered F&SF here with the May/June 2015 issue.
See our late June Fantasy Magazine Rack here, and all of our recent Magazine coverage here.