May/June Magazine of Fantasy & Science Fiction now on Sale
May/June Magazine of Fantasy & Science Fiction now on Sale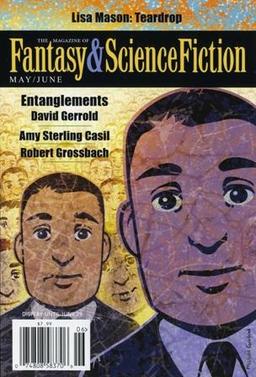 Yesterday, during the Nebula Awards banquet here in Chicago, I had the opportunity to talk with Gordon van Gelder, long-time publisher and editor of The Magazine of Fantasy & Science Fiction, and get his take on how well the transition to new editor C. C. Finlay has been proceeding. It was great to hear that he sees the same things I do — that F&SF has a new level of energy, and that the transition has generated some long overdue attention and interest for the magazine.
Jerard Bretts's review at Tangent Online is fairly typical of the comments I'm seeing.
Charles Finlay's second issue as editor is a strong one. The powerful stories by Grossbach, Gerrold and Sarafin are alone worth the price of entry.

Robert Grossbach's "Entrepreneurs" is the longest and best story in this issue. Stretching from 1952 into the near future, it tells of the efforts of enterprising engineer Morty Rushman to make it big in business ─ with the help of some equally enterprising aliens from the Eep planet, Narusto. Grossbach uses the theme of alien contact to make some very amusing points about modern American capitalism in the second half of the twentieth century and beyond. The humour reminded me of Kurt Vonnegut and Robert Sheckley, and there can't be much higher praise than that.
This issue also features a Lovecraftian horror story by Albert E. Cowdrey, James Sarafin's tale of hunting the wild creatures of the Pleistocene, a semi-autobiographical story by David Gerrold, and fiction from Lisa Mason, Sarah Pinsker, Caroline M. Yoachim, Amy Sterling Casil, and Rob Chilson.
Here's the complete Table of Contents.
NOVELLAS
"Entrepreneurs" – Robert Grossbach
NOVELETS
"Teardrop" – Lisa Mason
"Entanglements" – David Gerrold
"Trapping the Pleistocene" – James Sarafin
SHORT STORIES
"The Laminated Man" – Albert E. Cowdrey
"Today's Smarthouse in Love" – Sarah Pinsker
"Four Seasons in the Forest of Your Mind" – Caroline M. Yoachim
"In the Time of Love" – Amy Sterling Casil
"A Turkey with Egg on His Face" – Rob Chilson
Departments this issue include book reviews by Charles de Lint and Elizabeth Hand, film reviews from David J. Skal, the results of Competition #89 (a Limerick Challenge), cartoons by Frank Cotham, Arthur Masear, Mark Heath, and a Curiosities column by David Langford. The cover is by Michael Garland, illustrating "Entanglements."
The Magazine of Fantasy and Science Fiction is edited by C.C. Finlay, and published by Gordon van Gelder. The cover price is $7.99 for a thick 258 pages. Check out the complete TOC and additional free content at the F&SF website.
We last covered F&SF here with the March/April 2015 issue.
See our June Fantasy Magazine Rack here, and all of our recent Magazine coverage here.