Future Treasures: Fool's Quest by Robin Hobb
Future Treasures: Fool's Quest by Robin Hobb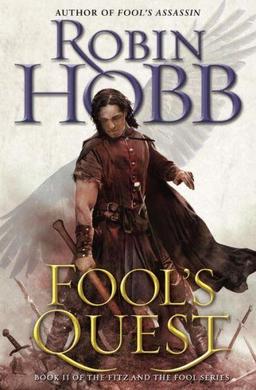 Author Megan Lindholm began a new career, under the name Robin Hobb, with the publication of Assassin's Apprentice (1995), the first book in The Farseer trilogy. Robin Hobb quickly became a bestselling writer, and she continued the tale of FitzChivalry Farseer and his enigmatic friend the Fool in The Tawny Man trilogy (2001-2003). 
Last year she launched a new trilogy, Fitz and the Fool, with Fool's Assassin, and in August the tale continues with the next installment, Fool's Quest, in which Fitz discovers devastating secrets and dark conspiracies that cast a dark shadow over the history of Fitz and his world.
Long ago, Fitz and the Fool changed the world, bringing back the magic of dragons and securing both the Farseer succession and the stability of the kingdom. Or so they thought. But now the Fool is near death, maimed by mysterious pale-skinned figures whose plans for world domination hinge upon the powers the Fool may share with Fitz's own daughter.

Distracted by the Fool's perilous health, and swept up against his will in the intrigues of the royal court, Fitz lets down his guard… and in a horrible instant, his world is undone and his beloved daughter stolen away by those who would use her as they had once sought to use the Fool — as a weapon.

But FitzChivalry Farseer is not without weapons of his own. An ancient magic still lives in his veins. And though he may have let his skills as royal assassin diminish over the years, such things, once learned, are not so easily forgotten. Now enemies and friends alike are about to learn that nothing is more dangerous than a man who has nothing left to lose.
Fool's Quest will be published by Del Rey on August 11, 2015. It is 768 pages, priced at $28 in hardcover and $13.99 for the digital edition.