Belated Movie Review #6: Mad Max: Fury Road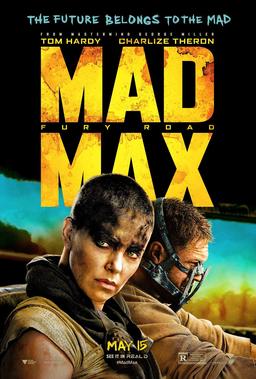 I've been reading Black Gate over the last month waiting for a Mad Max Fury: Road review… I guess that, if you're anything like me, after watching the movie all you can manage is to light up a cigarette and take some time to recover.
So! It looks like I need to fire up my modified combat wagon (a '78 Gremlin with a 79 Fiat Bertone welded on top) and GO TO VALHALLA VIA THE FURY ROAD!
It has taken me a while to come up with a review of Mad Max: Fury Road (MMFR) that isn't simply "its f-ing awesome!" or "Hell yeah! That's what I'm talkin' about!" or even "Oh what a love-eh-lee daay!"
It is a two+ hour fever dream! Modified dragsters and their support motorcycles tearing across a hellscape, bent on destruction! Ah, what the hell, throw in the pack from Gas Town, the Bullet Farmer, the Hedgehogs, and multiple biker gangs while we're at it!
You know how the original Mad Max was mostly bad things happening and then like a 10-minute chase? Then Road Warrior (Belated Review #4) was bad things happening with like a 30 minute chase? And Beyond Thunderdome (Belated Review #5) threw a curveball by having weird things happen and then a 15 minute chase? Well Fury Road has like 10 minutes of bad things happening, and then IT IS ALL CHASE.
Sometimes they have to find excuses to actually stop chasing for a bit. Mostly so bad things can happen. Sometimes they manage to shout over the screaming engines and groaning metal long enough to engage in the absolute bare minimum of character development. It is so refreshing!