The History of the Other Necronomicon
The History of the Other Necronomicon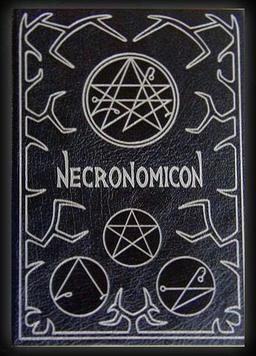 (With sincerest apologies to H. P. Lovecraft)
Original title, Watdiz Rafaflafla — Rafaflafla being the word used by residents of the greater Pittsburgh area to designate that harrowing sound (made by insects and tiny flying horses) suppos'd to resemble the flatulence of daemons who have been tuned to the key of B flat.
Composed by Haminah Haminah H. Haminah, Esq., a sad clown and learned scholar of the Peoria, in the American caliphate of the Illinois, who is said to have flourished during the early period of the Flock of Seagulls and the A-ha, circa 1983 A.D. He visited the ruins of the Cleveland and he explored subterranean secrets of the Memphis and spent ten years alone in the great southern desert of the Phoenix — the Hoolenah Whooleenah or "Artificially Irrigated Space" of the ancients, which is held to be inhabited by evil blue-haired spirits and sundry other monsters of the retirement catacombs. Of this desert many tedious and mediocre marvels are told by those who have much time on their hands and are usually about two and a half sheets to the wind.
In his last years H. Haminah dwelt in Topeka, where the Necronomicon II was written, and of his final death or disappearance (c. 1989 A.D.) many random and pointless things are told. He is said by Reebeeh Bopaloola (his biographer) to have been seized by an unspeakably vile monster with breath that would stop a tank in broad daylight in the produce aisle of the Safeway and devoured horribly before a smattering of bored witnesses. Who just wanted some arugula and really didn't want to get mixed up in yet another one of those supermarket devouring incidents.
Of H. Haminah's madness many things are told. He claimed to have seen fabulous Rangadang, the City of Petrified Cupcakes, and to have found beneath the ruins of a certain nameless desert town called Reno the tepid annals and secrets of a race more rude and garrulous than mankind. He was only an indifferent Moslem, worshipping unknown entities whom he called Yog-Sothoth and Cthulhu – though never to their faces and he never really did get the pronunciation down (how do you pronounce "Cth" anyway?).
In A.D. 1999 the Necronomicon II, which had gained a negligible circulation amongst a few of the dopier philosophers of the age, was secretly translated into Klingon by Theodorus Smith of Wildwood, New Jersey under the inappropriate and downright ridiculous title, My Little Pony & Me, which was later changed to Necronomicon IV and then to Necronomicon II. For a few weeks after it impelled certain dim-witted experimenters to terrible attempts, until it was suppressed and burnt by the patriarchs of a local Elks lodge.
After this it is only heard of furtively, until 2001 A.D. when Shorty Gundersen made a Swahili translation and the Swahili text was printed twice – both editions being without identifying marks (which explains why they were tossed in the dumpster by the janitor that same night).
The work both Klingon and Swahili was banned by the Surgeon General, over fears that it was carcinogenic, in 2003. An English translation made by Will Smith, during the latter part of his Fresh Prince years, was never printed, and exists only in fragments recovered from the original manuscript.
Numerous other copies probably exist in secret (but maybe not – who the hell really knows), and a 2011 translation of Necronomicon III (in 3-D) is persistently rumoured to form part of the collection of a fabulously wealthy toothpick magnate, from Tallahassee.
The book is rigidly suppressed by the authorities of most countries and Starbucks, and by all branches of organized professional wrestling. Reading leads to terrible consequences, such as bunions and uncontrolled hooting.
---
William I. Lengeman III holds forth at www.wileng3.com