Displaced Genre Bookshop Crowdfunds for New Chicago Location
Displaced Genre Bookshop Crowdfunds for New Chicago Location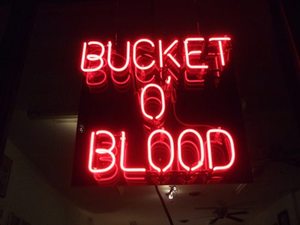 On Monday, June 29, Bucket O' Blood Books and Records posted a song to their store's Facebook page: "We're Desperate," from the 1981 X album Wild Gift.
Though the Chicago bookshop specializing in all things cult doesn't, as the lyrics proclaim, need a new address every other week — it does need one soon. They're facing the termination of their lease at the end of July and must vacate their current storefront.
They don't want to leave their neighborhood, and the store's devoted local following certainly don't want to see them go. (Black Gate is based in Chicago, and more than a few contributors have perused the shop's shelves or attended one of its events.)
They've launched a crowdfunding campaign on Indiegogo to raise funds to offset the high cost of moving. It's down to the wire, with less than a week left, and every little bit helps.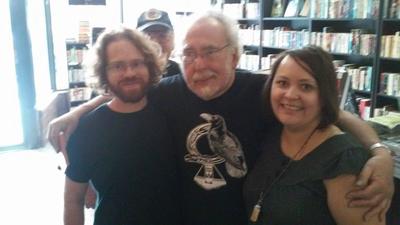 The shop's expertly curated collection of genre fiction, vinyl oddities, horror and sci-fi films, and assorted weird artifacts have made it a beloved destination among casual fans and avid collectors alike.
When most bookstores can't be bothered to separate their fantasy from their science fiction, and have a horror section consisting of a ramshackle shelf of VC Andrews and Stephen King, Bucket O' Blood is something special.
They're seeking not just a new space, but an expanded location to better serve the community, offering space for book clubs, writing workshops, author events, live music, and perhaps the occasional arcane ritual when the stars are right.
Bucket O' Blood is a labor of love run by and for fans of the adventurous and the imaginative. Please consider giving it some love in return. And by some love, I mean some money.
They're offering fantastic rewards for contributors, including gift certificates, monthly buying subscriptions, and exclusive merchandise. Friends outside of the Chicago area can pick up a fantastic bundle containing a t-shirt designed exclusively for this campaign, plus a "Supporter" button and a beer koozie. (It's the only perk that's available for shipping, and only to US addresses.)
Bucket O' Blood Books and Records will return — but where, and in what form, depends on us.
Please contribute here, or when making a purchase in their current store at 2307 N Milwaukee Avenue in Chicago.