Ellsworth's Cinema of Swords: The First British Invasion
Ellsworth's Cinema of Swords: The First British Invasion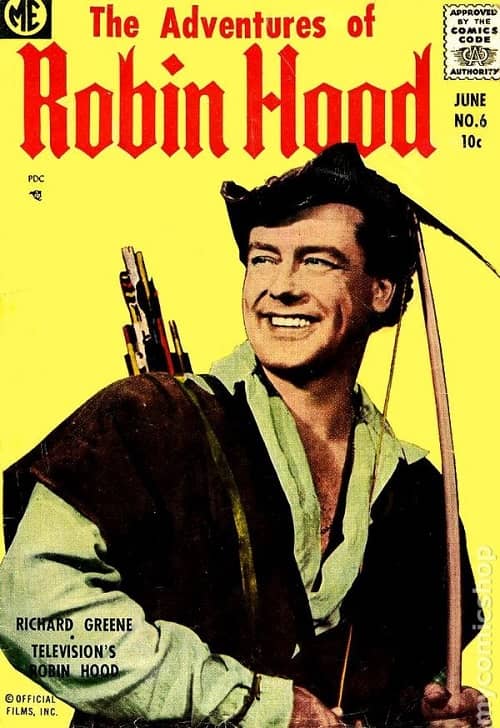 Television and TV broadcasting had many forebears, but the first regular national service was Great Britain's BBC TV in 1936. It was suspended in 1939 during World War II so enemy aircraft couldn't home in on its signals, but broadcasting resumed in 1946 and expanded rapidly thereafter. In 1955 the BBC was joined on the British airwaves by the Independent Television network, or ITV. Unlike the BBC, ITV was a commercial network, its programming supported by advertising and, it was hoped, by selling its content for rebroadcasting in the burgeoning American markets.
ITV broadcast a range of content, but what's important to us is that there were entertaining swashbuckler series in the mix, starting from the very beginning in September 1955 with The Adventures of Robin Hood and The Adventures of the Scarlet Pimpernel. In Robin Hood, at least, ITV had a smash success, and its production company added two additional series in 1956, The Adventures of Sir Lancelot and The Buccaneers. (There was also an independent Count of Monte Cristo series, but we'll save that for another day.) All of these shows were syndicated regionally across the United States, and Robin Hood in particular is fondly remembered.
The Adventures of Robin Hood, Season One
Rating: ****
Origin: UK, 1955
Director: Ralph Smart, et al.
Source: Network DVD
This series, which premiered in 1955 in both the USA and UK, heralded a brief vogue for swashbuckling TV shows, most of them produced in Britain — but this is the one that really mattered, because it was smart and dependably entertaining, found a devoted audience, ran for four seasons in the Fifties and then for decades in syndication. Its success inspired its only significant rival in Disney's Zorro. Though shot in the UK with a British cast and crew, its producers were Americans whose politics leaned left, and most of its scripters were American screenwriters such as Howard Koch and Waldo Salt who'd been blacklisted in Hollywood. They gave the stories an anti-authoritarian edge that accorded well with Robin Hood's outlaw legend.
Much of the series' success rested on the matinee-idol charisma of star Richard Greene, who invested the role of Robin with a charm and wry wit unmatched since Errol Flynn's portrayal. With a foil in the equally charming Bernadette O'Farrell as Lady Marian Fitzwalter, and a determined and intelligent adversary in Alan Wheatley as the Sheriff of Nottingham, each episode's brief (25 minute) morality play delivered solid entertainment, week after week for 143 episodes over the life of the series.
The first season (39 episodes) establishes the situation: Saxon noble Robin of Locksley, loyal to King Richard, returns to England during the corrupt reign of Prince John and is outlawed. Robin then leads a band of Merrie Men from Sherwood Forest, fighting oppression with the aid of romantic interest Lady Marian and advisor Friar Tuck, both of whom are somewhat protected by their positions in the social hierarchy. This was the standard pop culture version of Robin Hood for a good twenty years until the first of the revisionist Robin Hoods, Robin and Marian, in 1975.
The opening episodes that set the stage are among the best. In "The Coming of Robin Hood," written by Ring Lardner, Jr., Locksley, "back from the Holy Wars," finds that a Norman (played by a young Leo McKern) has usurped his domain; when Robin tries to reclaim it, an attempt to assassinate him kills the Norman instead, but Robin gets the blame and is outlawed. In "The Moneylender," Robin joins a band of outlaws in Sherwood, converts them to robbing from the rich to give to the poor, and inherits their leadership when their chief, Will Scathlock, dies in an ambush that Robin had warned them against.
"Dead or Alive" introduces Little John (Archie Duncan), with the traditional quarterstaff fight on the log bridge, while "Friar Tuck," of course, brings that mettlesome priest (the amusing Alexander Gauge) into the band — and thereafter the outlaws have two schemers in their number. Finally, episode five, "Maid Marian," introduces Robin's ladylove in her first full appearance, already adopting male garb and outshooting most of the outlaws.
Atypically for British shows of the period, Robin Hood wasn't shot all on soundstages, having exteriors set in the English greenwood in nearly every episode. The scripts are generally sharp, with an edge lacking in most conformist 1950s teleplays, though the overtly comic episodes haven't aged very well. The swordplay choreography is largely quite good, and archery is often central to the plot, which is gratifying — and the outlaws actually pause to string their bows before going into action! Even better, for a Fifties TV show Lady Marian is quite assertive, plus she's capable with a bow and shown to keep a French maître d'armes who trains her in handling a sword.
Later episodes worth your time include number 18, "The Jongleur;" 22, "The Sheriff's Boots;" 36, "The Thorkil Ghost;" and what is essentially the season closer, episode 38, "Richard the Lion-Heart." Note that some DVD collections jumble the episode order, which actually matters with this show, considering the way characters are introduced and developed; look online for a reference so you're sure to watch them in proper succession.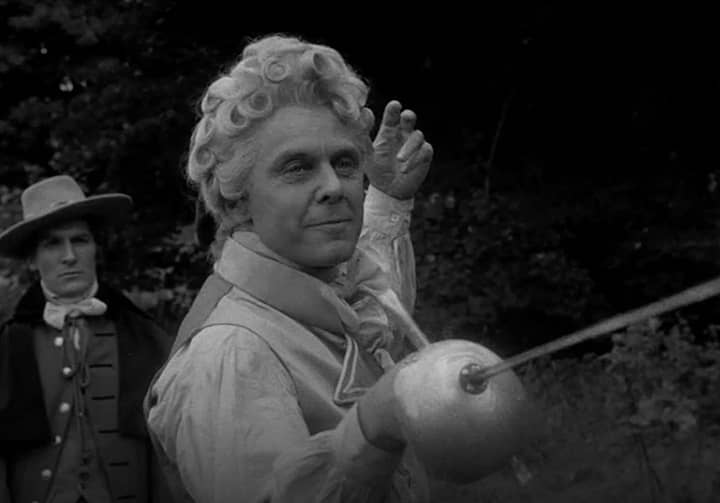 The Adventures of the Scarlet Pimpernel
Rating: ****
Origin: UK, 1955
Director: David MacDonald, et al.
Source: Network DVD
This British TV series dates from the very beginning of ITV, but good as it was, it lasted only half a season. Echoing the stories by Baroness Orczy and the film adaptations of the Thirties, during the French Revolution Sir Percy Blakeney is a wealthy and foppish English lord who has a secret identity as the Scarlet Pimpernel, leading a league of adventurers dedicated to saving fugitive and condemned French aristocrats from the guillotine. The main differences from the source material are that, to suit egalitarian postwar attitudes, this Pimpernel doesn't really sympathize with the aristos, he saves them out of common decency, and he's unmarried, leaving him free to romance the lady of this week's episode — or just to wish he dared risk it.
Though the series' budget was low, the writing and acting were good, with a solid ensemble cast led by co-producer Marius Goring playing Sir Percy and the Pimpernel. Goring was charming, handsome, and a talented character actor, essential in a role heavy on disguise and impersonation. In most episodes the Pimpernel was supported by his able lieutenants, Lord Richard Hastings (Anthony Newlands) and Sir Andrew Ffoulkes (Patrick Troughton, a decade before his turn as the Second Doctor). The droll Alexander Gauge (Friar Tuck in the Adventures of Robin Hood TV show) brought the avoirdupois as the Prince of Wales, and Stanley Van Beers more than carried his own weight in the thankless role of the irascible and ever-outsmarted Citizen Chauvelin, the Scarlet Pimpernel's French nemesis.
The 25-minute episodes fell, with some overlap, into three categories: Mission: Impossible-style schemes of deceit and impersonation, thrillers rife with gun- and swordplay (Goring was a two-fisted Pimpernel), and lighter-toned comedy installments that were less successful, though the Christmas episode was a standout. Episodes moved fast, scenes changed quickly, and much of the fun came in trying to discern which just-introduced character was actually Sir Percy in disguise. It's a series that's worth tracking down if you're a Scarlet Pimpernel fan.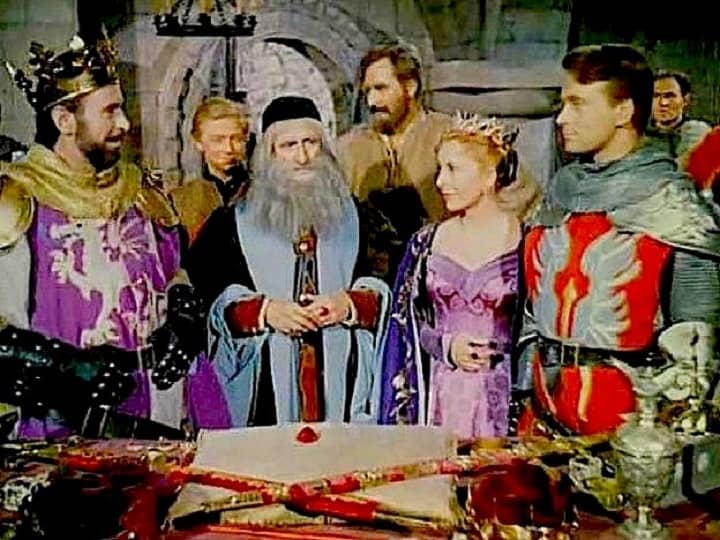 The Adventures of Sir Lancelot
Rating: ** (first half) / *** (second half)
Origin: UK, 1956
Director: Ralph Smart, et al.
Source: Amazon streaming video
With the first season of The Adventures of Robin Hood a runaway success on both sides of the pond, the British ITV network called for companion series and Sapphire Films was happy to comply. Lancelot was made at the same studios as Robin Hood, employing the same writers and directors, and sharing actors, costumes, and sets. But despite this, the new series seemed to lack the spark of its predecessor and got off to a slow start. Star William Russell as Lancelot wasn't as sharp or versatile as Richard Greene, and the initial episodes are flat, clichéd, and seem aimed at a juvenile Hopalong Cassidy level.
The stories are reasonably well grounded in the Arthurian legends, though without using the actual tales and with 100% less adultery. Oh, Lancelot and Guinevere make eyes at each other for the first few episodes, but then they dial it down and the bold knight takes up flirting with whoever is the lady guest star of the week. Merlin is a fraud and a charlatan, as in Twain's Connecticut Yankee, but here he's a wise advisor who uses chemistry and optics to appear to cast spells. Lancelot, however, sees through his tricks, though he doesn't reveal them, and takes advantage of his cleverness. Unfortunately, the show's limited budget meant a smallish cast, and battles and sieges seem faintly ridiculous when conducted with five combatants per side. And though there are at least two sword fights in every episode, the swordplay is rubbish.
However, halfway through the first season somebody seems to have noticed that the series was flagging and decided to do something about it, because after episode 13 the scripts show a marked improvement. Russell doesn't get any better, but the stories suddenly come alive, the situations are more complex, and the characters show some depth. Furthermore, starting with ep 16, the series is shot in full color, a first for a British TV show. Alas, it must have been too little, too late to save the series, because it wasn't renewed for a second season.
But that does leave a good eight or ten episodes that are worth seeking out. Start with ep 10, "Roman Wall," an early outlier in which Lancelot finds a lost and forgotten Roman outpost. The first of the improved later episodes is 14, "Shepherds' War," which is clearly inspired by Kurosawa's Seven Samurai. Episodes 23 and 27, "Lady Lilith" and "The Missing Princess," address the situation of women in medieval (and, by extension, 1950s) Britain, going about as far toward advocating equality of the sexes as could be done on Fifties TV.
But the best episode is 29, "The Thieves," in which Arthur and Lancelot, for a wager, are disguised as branded thieves, and learn for themselves how the lowest of the realm's underclass are treated by their betters. (Did I mention that this series was written by the same progressive American scripters as Robin Hood?)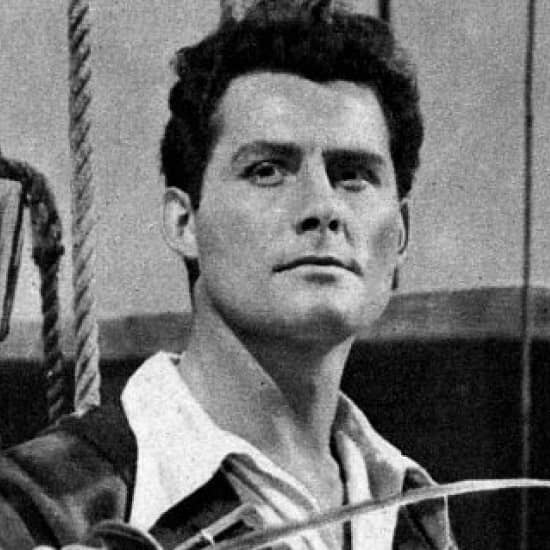 The Buccaneers
Rating: ****
Origin: UK, 1956
Director: Ralph Smart, et al.
Source: Network DVD
After Hannah Weinstein's Sapphire Films had a hit in 1955 with The Adventures of Robin Hood, they added two more swashbuckling series the following year, and The Buccaneers was arguably the best of them. Its writers and directors came from the same talent pool Sapphire used for Robin Hood, and the stories had a similar progressive slant, as Captain Tempest and the reformed buccaneers of his ship the Sultana drew on their piratical pasts to fight tyranny and oppression through unorthodox means. The stories were set in the Caribbean in the early 1700s, based mainly around New Providence in the Bahamas, though for the last quarter of the 39 episodes the Sultana weighed anchor to the coasts of the southern American colonies.
Main man Captain Dan Tempest was played by Robert Shaw in his first major starring role (though for the first two episodes Shaw was unavailable, so Alec Clunes filled in as former pirate Woodes Rogers). Tempest initially arrives in New Providence too late to accept the new king's pardon and is slapped in prison for piracy by Acting Governor Beamish (Peter Hammond), but when Blackbeard attacks the port Beamish needs Tempest to lead the defense and lets him out, so long as Tempest agrees to reform. He does, and thereafter Captain Dan is New Providence's main protector against sea rovers and the Spanish, along with his regular Merrie Sailormen on the Sultana.
Most of the 25-minute episodes have engaging scripts and taut direction, though a few outright comedy entries fall flat compared to the thrillers. There's an interesting tension between the reformed pirates' duty to enforce the law on the sea lanes while resisting the urge to revert to pillage and slaughter, and Shaw's Captain Tempest, with his crooked smile, never quite loses his feral edge. Over the length of the season all the piracy boxes are checked: buried treasure, sea shanties, decent cutlass fencing, threats of keelhauling, sailors shanghaied off the docks, a devious Spanish marquesa, even ghost pirates! The best episodes are those in which Tempest turns the tables on the authorities to rescue marginalized folk like slaves, prisoners of debt, and women trying to make it on their own, serious matters that are faced honestly, not just dismissed with a wink. It's a shame this fine series wasn't renewed for a second season.
The previous installments in the Cinema of Swords are:
Olivia de Havilland — First Queen of the Swashbucklers
Goofballs in Harem Pants
Disney's Early Swashbucklers
'50s Vikings – Havoc in Horned Helms
Laughing Cavaliers
Charming and Dangerous: Douglas Fairbanks, Jr.
Eleven Samurai: Early Chambara Classics
Beyond Captain Blood: Three by Sabatini
3 Musketeers + 1 Long Nose
Louis Hayward, Everyman with a Sword (Part 1 of 2)
Days of Technicolor Knights
Louis Hayward, Everyman with a Sword (Part 2 of 2)
Laurence Olivier, Swashbuckler?
Tony Curtis Goes Yonda
The 7th Voyage and Its Children
The Good, the Bad, and Mifune
---
LAWRENCE ELLSWORTH is deep in his current mega-project, editing and translating new, contemporary English editions of all the works in Alexandre Dumas's Musketeers Cycle, with the fourth volume, Blood Royal, just published by Pegasus Books in the US and UK. His website is Swashbucklingadventure.net.
Ellsworth's secret identity is game designer LAWRENCE SCHICK, who's been designing role-playing games since the 1970s. He now lives in Dublin, Ireland where he works as a consultant for narrative-based video games.