Future Treasures: The Forever Sea by Joshua Phillip Johnson
Future Treasures: The Forever Sea by Joshua Phillip Johnson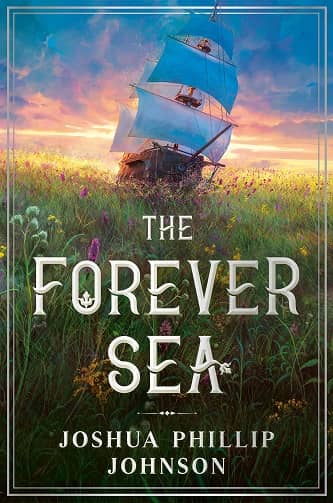 Ah, there's nothing like a good fantasy debut novel. Joshua Phillip Johnson has published a handful of short stories in small-press online journals (including "The Ghost Repeater" at The Future Fire and "The Demon in the Page" at Metaphorosis Magazine), and now leaps into the big time with a major hardcover release from DAW, coming in two weeks.
The Forever Sea is the opening book in a new epic fantasy series set in a world where ships sail an endless grass sea. Mary Robinette Kowal said, "This was everything I wanted it to be. Wind-swept prairie seas, pirates, magic, and found families," Tor.com called it "a thrilling pirate fantasy that follows a crew of women that sail a sea of prairie grass," and Publishers Weekly said it "calls to mind Ursula K. Le Guin's Earthsea series… this entertaining story makes a nice addition to the growing hopepunk subgenre." I don't know what the heck "hopepunk " is, but between the comparisons to Earthsea and the "pirate fantasy" label I'm sold.
Here's the publisher's description.
On the never-ending, miles-high expanse of prairie grasses known as the Forever Sea, Kindred Greyreach, hearthfire keeper and sailor aboard harvesting vessel The Errant, is just beginning to fit in with the crew of her new ship when she receives devastating news. Her grandmother — The Marchess, legendary captain and hearthfire keeper — has stepped from her vessel and disappeared into the sea.

But the note she leaves Kindred suggests this was not an act of suicide. Something waits in the depths, and the Marchess has set out to find it.

To follow in her grandmother's footsteps, Kindred must embroil herself in conflicts bigger than she could imagine: a water war simmering below the surface of two cultures; the politics of a mythic pirate city floating beyond the edges of safe seas; battles against beasts of the deep, driven to the brink of madness; and the elusive promise of a world below the waves.

Kindred finds that she will sacrifice almost everything — ship, crew, and a life sailing in the sun — to discover the truth of the darkness that waits below the Forever Sea.
The Forever Sea will be published by DAW Books on January 19, 2021. It is 464 pages, priced at $27 in hardcover and $14.99 in digital formats. The cover art is by Marc Simonetti. Read Chapter One at Tor.com.
See all our coverage of the best upcoming fantasy and science fiction here.