New Treasures: Best New Horror 30, edited by Stephen Jones
New Treasures: Best New Horror 30, edited by Stephen Jones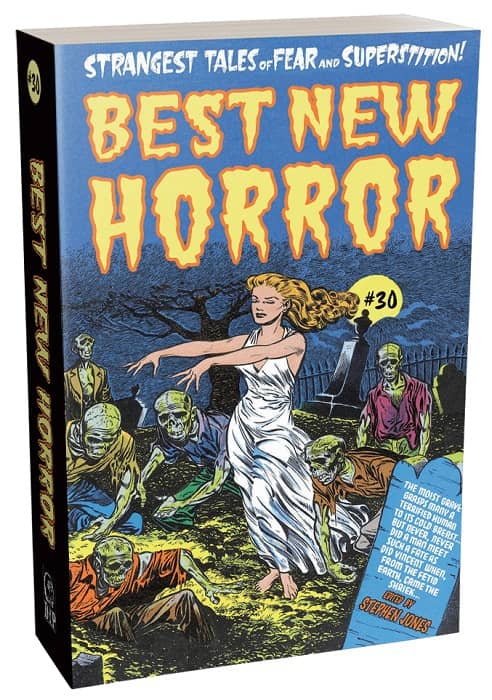 Best New Horror 30 (PS Publishing, November 2020). Cover by Warren Kremer
Gardner Dozois edited 35 volumes of The Year's Best Science Fiction between 1984 and 2018, an extraordinary achievement that I didn't expect to be equaled any time soon. But closing fast on his heels is Stephen Jones, who just released volume 30 of his Best New Horror series in November.
Publishing delays have accumulated for Best New Horror over the years; as result this volume collects tales from 2018. But that blemish aside, it's a fine anthology with top notch horror from Ramsey Campbell, Michael Marshal Smith, Alison Littlewood, Graham Masterton, Damien Angelica Walters, two stories from Peter Bell, and lots more — all packaged under a delightfully retro cover by Warren Kremer. Black Gate blogger Mario Guslandi offers up an in-depth review at Ginger Nuts of Horror; here's a sample.
First of all I'd like to mention the two stories by Peter Bell, a fantastic author of ghostly tales, whose body of work has appeared so far only in books from small, indie imprints… "The House" is an eerie piece of fiction about three gentlemen following the traces of an elusive, ambiguous ghost story writer, and " The Virgin Mary Well" is a dark, atmospheric story where ancient, unholy secrets about a mysterious well are unearthed and brought back to the present…

"The Deep Sea Swell" by John Langan is a tense, thrilling story where the ghost of a past sea tragedy gets loose during a storm, while " Holiday Reading" by Rosalie Parker is a delightful tale suspended between literature and reality. In the creepy "The Smiling Man, by Simon Kurt Unsworth, violating the grave of a disreputable character brings about serious disturbances in a quiet small village…

Mark Samuels provides "Posterity", an Aickmanesque story (not a simple coincidence…) describing the uncanny experience of a literary researcher exploring the legacy of a deceased writer whose initials are R.A. In Thana Niveau's truly outstanding " Octoberland" nostalgia and childhood horrors blend to create an insightful, unforgettable mix.
Here's the complete Table of Contents.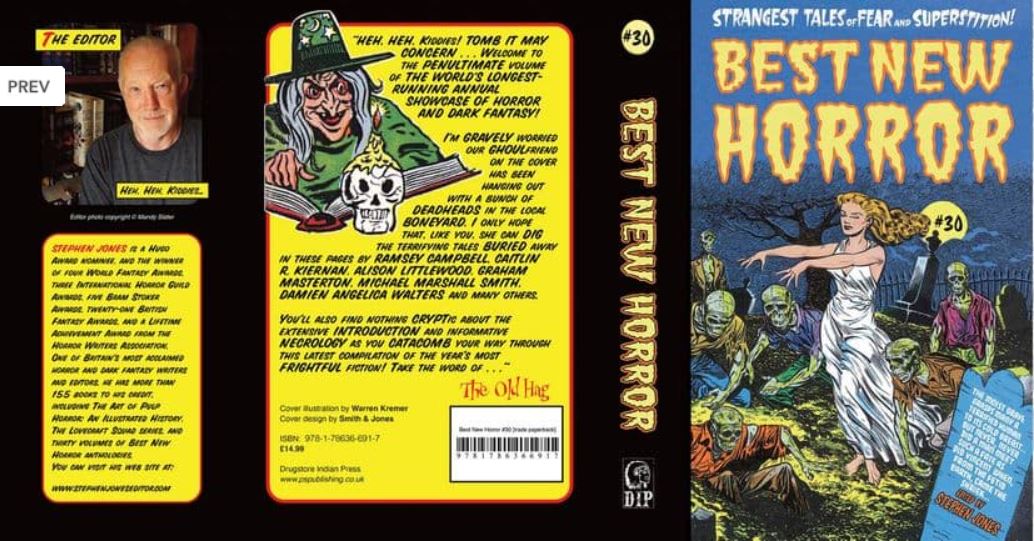 Introduction of Horror In 2018, Stephen Jones
"The House," Peter Bell
"Smiling Man," Simon Kurt Unsworth
"Holiday Reading," Rosalie Parker
"Resonant Evil," Graham Masterton
"Redriff," Michael Chislett
"The Blink," Nicholas Royle
"The Deep Sea," Swell John Langan
"Sisters Rise," Christopher Harman
"The Run of the Town," Ramsey Campbell
"The Marvellous Talking Machine," Alison Littlewood
"Who's Got the Button?" James Wade
"The Typewriter," Rio Youers
"The Keepers of the Lighthouse," Ken Mackenzie
"The Hungry Grass," Tracy Fahey
"Ghostly Studies, Dr. Grace, and The Diodati Society," Daniel Mcgachey
"It Never Looks Like Drowning," Damien Angelica Walters
"The Window of Erich Zann," Michael Marshall Smith
"Posterity," Mark Samuels
"Octoberland," Thana Niveau
"Porson's Piece," Reggie Oliver
"He Sings of Salt And Wormwood," Brian Hodge
"Virginia Story," Caitlín R. Kiernan
"The Virgin Mary Well," Peter Bell
Necrology, Stephen Jones & Kim Newman
Best New Horror 30 was published by PS Publishing on November 1, 2020. It is 606 pages, priced at £14.99 in trade paperback. The cover is by Warren Kremer. Get the complete details at the PS Publishing website.
See all of our recent New Treasures here.