Goth Chick News: The Pizza Delivery Box of Horror
Goth Chick News: The Pizza Delivery Box of Horror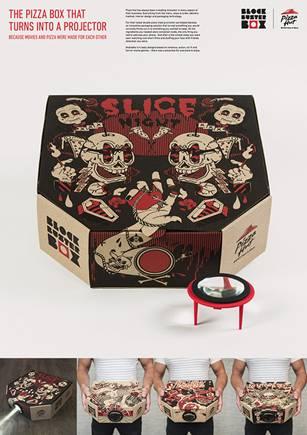 The last place in the world I expected to find something interesting to tell you about this week is on the website Business Insider.
Like the rest of the staff here at Black Gate, I have a day job. Because as BG boss John is fond of reminding us, it is the palatial offices or a salary – we can't have both.
So when existing in the very separate, cube-dwelling portion of my career, I am obligated to read about topics that would never darken the stairwell of the underground bunker of Goth Chick News from riveting sources like the Wall Street Journal, Crain's Chicago Business and yes, Business Insider.
So imagine my amazement when my two worlds collided.
Business Insider reports this week that Pizza Hut, coming to the earth-shattering conclusion that pizza and movie nights sort of go together, is releasing their new Blockbuster Box; a way to combine food with entertainment in one package.
Here's how it works: You order your pizza and it comes in one of four themed boxes. There's the horror-filled "Slice Night," "Anchovy Armageddon" for sci-fi fans, "Hot & Ready" for the romance lovers, and the action-packed "Fully Loaded." When you get your box, you pop out a hole in the front, insert the provided lens, scan a QR code on the box to load the movie, and then put your phone on a stand inside the box to blow it up on your wall.
Right off the bat you can guess at the issues with this concept, but then again – "Slice Night"?  How could you not fall in love with that?
Still, I cringe a bit at the thought of anyone's very pricey smart phone being propped inside a nice, gooey pizza box for a start. Then there's the video quality, which under the best of circumstances can't be good. And apparently even the instructions that come with your pizza projector encourage you to make use of Bluetooth speakers or the audio will sound exactly as you would expect – like it's coming from inside a pizza box.
For the time being this idea is the brain child of Ogilvy Hong Kong (ironically, the Asia branch of the advertising agency my cube-dweller company employs) and Pizza Hut is only rolling it out over there. We'll have to wait and see if they decide to offer their special boxes in other countries.
But getting a pizza in a horror-themed box?
Score!
What do you think?  Is this the beginning of a college dorm room, food and entertainment revolution?  Post a comment or drop a line to sue@blackgate.com.