Future Treasures: The Great Bazaar & Brayan's Gold by Peter V. Brett
Future Treasures: The Great Bazaar & Brayan's Gold by Peter V. Brett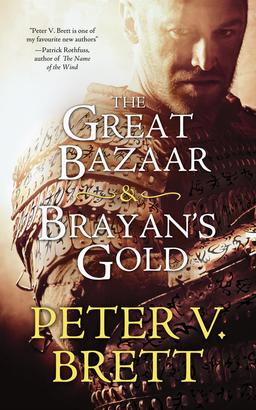 Peter V. Brett's second novel in the Demon Cycle, The Desert Spear, became an international bestseller, and the next two books in the series made him one of the top-selling authors on the market. So it's no surprise that The Great Bazaar and Brayan's Gold, two limited edition novellas from P.S. Publishing, set in the world of the Demon Cycle, and detailing Arlen's early adventures, have been sold out for years.
Now Tachyon Publications is releasing an omnibus collection of both novellas in a handsome and affordable trade paperback edition. It something no fan of Peter V. Brett will want to miss.
From the dangerous world of the Demon Cycle comes the early adventures of Arlen, Peter V. Brett's quintessential fantasy hero. These exciting origin tales follow Arlen as he learns to navigate a world where the elemental forces of evil conjure themselves from the earth each night.

Humanity has barely survived a demonic onslaught by using magical wards that protect their cities and homes. Only a handful of mercenaries and explorers risk traveling after the sun sets. Arlen, seeking adventure and fortune, is barely protected by the warded armor upon which he has inscribed intricate defensive runes. From a journey ferrying a wagonload of dynamite to a mountain stronghold, to a dangerous mission to recover desert treasures, Arlen faces friends and enemies with a strong arm and a cunning wit.
We've previously covered Peter's novels The Daylight War and The Skull Throne.
The Great Bazaar & Brayan's Gold will be published by Tachyon Publications on July 14, 2015. It is 186 pages, priced at $14.95 in trade paperback. There is no digital edition. Cover by Elizabeth Story.