May Issue of Swords and Sorcery Magazine Now Available
May Issue of Swords and Sorcery Magazine Now Available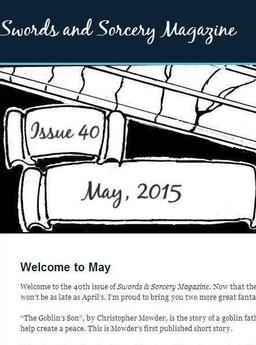 Issue 40 of Curtis Ellett's Swords and Sorcery Magazine, cover-dated May 2015, was published this week. Each issue of Swords and Sorcery contains two short stories, and is available free online. This issue includes new fiction from Christopher Mowder and Anna Sykora, and a discussion of Fritz Leiber's Fafhrd and the Grey Mouser by Fritz Leiber (strangely called "Fritz Lieber" in the intro) by Rick Hudson.
"The Goblin's Son," by Christopher Mowder, is the story of a goblin father who must deal with his son going off to war and serving beside old enemies to help create a peace. This is Mowder's first published short story.

"How Pawla Stole the River Livvy," by Anna Sykora, is an ecological fable and a delightful fantasy. A wild creature helps a village of humans drive off invaders who threaten their homes. Sykora is a prolific writer who has published over a hundred stories and many poems. This is her first appearance in Swords & Sorcery.

"Back in Lankhmar Again," by Rick Hudson, is a discussion of the Fafhrd and the Grey Mouser stories by Fritz Lieber (sic). Hudson is a noted writer of literary fiction, a Senior Lecturer in English Literature at Manchester Metropolitan University. His essay "Return to Hyboria" and story "Wraith-Raker" have recently appeared in Swords & Sorcery.
Read the current issue here.
Swords and Sorcery Magazine is edited by Curtis Ellett, and is available free online. Fletcher Vredenburgh reviewed issue #40 in his May Short Story Roundup. See our June Fantasy Magazine Rack here, and all of our recent Magazine coverage here.