New Treasures: Monstrous by MarcyKate Connolly
New Treasures: Monstrous by MarcyKate Connolly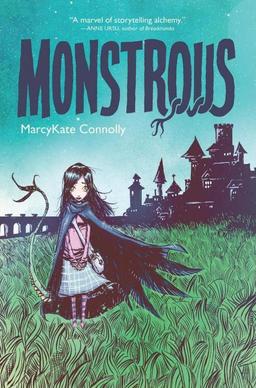 Now this looks like a cool book.
Monstrous, the debut novel from MarcyKate Connolly, features a city under the sway of dark magic, a mysterious curse… and a girl with bolts in her neck, who was built to defeat the curse and rescue the inhabitants of Byre. You can read the first 72 pages online, at the HarperCollins Web Sampler.
The city of Bryre suffers under the magic of an evil wizard. Because of his curse, girls sicken and disappear without a trace, and Bryre's inhabitants live in fear. No one is allowed outside after dark.

Yet night is the only time that Kymera can enter this dangerous city, for she must not be seen by humans. Her father says they would not understand her wings, the bolts in her neck, or her spiky tail — they would kill her. They would not understand that she was created for a purpose: to rescue the girls of Bryre.

Despite her caution, a boy named Ren sees Kym and begins to leave a perfect red rose for her every evening. As they become friends, Kym learns that Ren knows about the missing girls, the wizard, and the evil magic that haunts Bryre.

And what he knows will change Kym's life.

Reminiscent of Frankenstein and the tales of the Brothers Grimm, this debut novel by MarcyKate Connolly stands out as a compelling, original story that has the feel of a classic.
Monstrous was published by HarperCollins on February 10, 2015. It is 432 pages, priced at $16.99 in hardcover and $9.99 for the digital edition.