Art of the Genre: A Call To My Readers!
Art of the Genre: A Call To My Readers!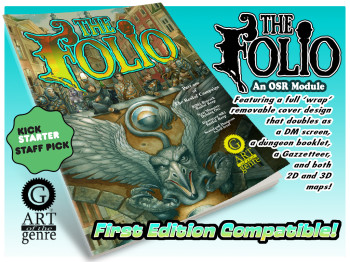 It's the holiday season here at Black Gate and I wanted to thank all my devoted readers for my multiple '#1 Monthly Post' plaques that hang on my office wall for the year.  Art of the Genre is a wonderful way to connect with you all and I truly hope we can continue to lead Black Gate content statistics in 2015.
I also wanted to ask for your continued support with a pledge to my current crowd-funding campaign for the AD&D 1E module, The Folio, that is currently a 'Staff Pick' over on Kickstarter.  I need your help to see this project reach its goals.  The content presents the feel of an old school Dragon/Dungeon Magazine while also having a fully removable cover like the TSR classic modules of old.
I've put in the work, gotten this thing done and ready to print, but I need my readers to make it a full reality.  In fact, I wanted to share some quotes about the project from my office mates here at Black Gate L.A. so you get a good understanding of the commitment already behind the project.
Editor-in-Chief John O'Neill: 'It's in shrink right?  Then yes, I'll pledge, so I can have an excuse to never read it!'

BG Horror Correspondent Goth Chick: 'I had to pledge for two copies because the coffee machine in the basement keeps leaking and I needed something to mop up the spills with.'

BG Movie Reviewer Ryan Harvey: 'Honestly, I pledged so Scott would stop knocking on my door every day to ask if I'd done so yet.'

BG Secretary Kandi: 'I was promised a starring role in the film adaptation if I pledged.'

BG Gaming Correspondent James Maliszewski: 'If it isn't Holmes, I don't want it, and get out of my office!'
Seriously, with friends like these, I NEED MY READERS!  So give yourself a gaming gift this season and back The Folio and I promise you won't be disappointed!    Just click on the banner below!