New Treasures: Steampunk Soldiers: Uniforms and Weapons from the Age of Steam by Philip Smith and Joseph McCullough
New Treasures: Steampunk Soldiers: Uniforms and Weapons from the Age of Steam by Philip Smith and Joseph McCullough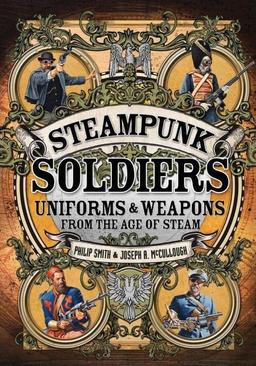 I'm a sucker for the Steampunk aesthetic — and especially the really creative fashion and fiction it's helped create. It's not often that a literary movement simultaneously spawns a fashion and cosplay movement, and I think that's neat. The two have helped fuel each other, and how could they not? It's easier to be creative when there are hundreds of artists, jewelers, seamstresses, and cosplayers out there coming up with ideas.
There's been some terrific Steampunk-related releases in the past few months, including Sean Wallace's Mammoth Book of Steampunk Adventures (containing a story by our very own C.S.E. Cooney), Chris Wooding's Ketty Jay novels, Peter Cakebread's The Alchemist's Revenge, and Cherie Priest's Clockwork Century series, just to name a few. But I think my favorite may be the just-released Steampunk Soldiers, a handsome illustrated hardcover that purports to be a serious historical study of the of steam-powered weaponry and equipment that abounded in the days before the Great War of the Worlds.
Steampunk Soldiers is a unique pictorial guide to the last great era of bright and colorful uniforms, as well as an important historical study of the variety of steam-powered weaponry and equipment that abounded in the days before the Great War of the Worlds.

Between 1887 and 1895, the British art student Miles Vandercroft traveled around the world, sketching and painting the soldiers of the countries through which he passed. In this age of dramatic technological advancement, Vandercroft was fascinated by how the rise of steam technology at the start of the American Civil War had transformed warfare and the role of the fighting man. This volume collects all of Vandercroft's surviving paintings, along with his associated commentary on the specific military units he encountered.
Co-author Joe McCullough is probably best known to Black Gate readers for his story "Stand at Llieva" in Black Gate 5, his previous book Dragonslayers, and for his seminal article "The Demarcation of Sword and Sorcery," still widely cited in many discussions on the genre, and one of the most popular articles we've ever published. This is Philip Smith's first book for Osprey; he is an editor at Osprey, where he specializes in military history and tabletop wargaming.
Steampunk Soldiers: Uniforms and Weapons from the Age of Steam was published by Osprey Publishing on November 18, 2014. It is 156 pages in hardcover, priced at $24.95 in hardcover and $13.95 for the digital edition. The copious color artwork is by Mark Stacey. See more details at the Osprey website.
See all of our recent New Treasures here.