Tête-bêche: Can a 2-in-1 Book Revival Offer New Life for Genre Novellas?
Tête-bêche: Can a 2-in-1 Book Revival Offer New Life for Genre Novellas?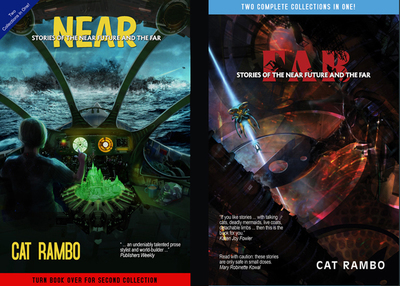 Novellas (usually considered to be 20,000 — 50,000 words) are notoriously difficult for authors to place with publishers, which is unfortunate because it's a wonderful length for genre stories. Sword-and-sorcery, science-fiction adventure, hardboiled crime, and horror stories all lend themselves to lean, compact novellas.
Most short fiction markets top out at about 5,000-7,000 words, though, due to the practical considerations of available space in the publications, as well as available editorial reading time. Stand-alone novellas struggle even more.
Digital printing has eliminated the technical issues of shorter print editions in last-generation printing presses, but the length is unfamiliar to readers (who often are hesitant to pick up a smaller book).
This is compounded by pricing issues. A book needs to provide the publisher a certain margin of profit. However, a novella can't be priced in the same way as a novel that offers two or three times as many pages.
This means it's tough to price a print novella in a way that makes editing, layout, cover design, and publishing economically viable.
Some publishers have taken to releasing novellas in limited, collectible editions — a good route if the author already has an established following, but a harder sell for emerging authors.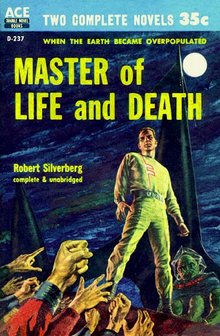 E-books are a great option for novellas as pricing in the digital space is much easier to resolve, but not everyone has (or wants) an e-reader, and print devotees are left out in the cold. Maybe a once-common tool of genre publishing can resurrect a now neglected form…
Tête-bêche books (French, meaning "head-to-toe") are volumes in which two texts are bound in a single volume with one text "flipped" 180 degrees to run opposite from the other. Books bound this way have a "front" cover on each side and both titles on the spine.
The arrangement is perhaps best known as the one used by the "Ace Doubles" first published by Ace in 1953. These books usually combined two different authors, although sometimes two works by a single author appeared together.
Ace Doubles and other tête-bêche paperback releases were considered pulp distractions, leading one editor to comment, "If the Holy Bible was printed as an Ace Double it would be cut down to two 20,000-word halves with the Old Testament retitled as Master of Chaos and the New Testament as The Thing With Three Souls."
Jokes aside, many significant authors of the time appeared in the Doubles, perhaps the most unusual being William S. Burroughs — credited as "William Lee" for Junkie and paired with the now largely-forgotten Maurice Helbrant's Narcotic Agent.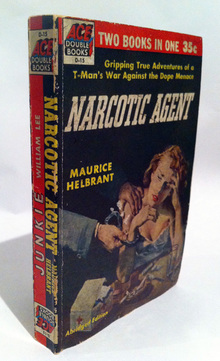 The format ran for over twenty years, but today it has been for the most part retired. Horror publisher Blood Bound Books has chosen to revive the tête-bêche form in its latest release, combining Dark Waves by Simon Kearns with Cradle of the Dead by Roger Jackson, two decidedly different but undeniably chilling horror tales set in modern-day England.
As an editor at Blood Bound Books, I was very excited to accept both Simon Kearns's Dark Waves and Roger Jackson's Cradle of the Dead, despite (and because of) their novella lengths.
Dark Waves is the story of John Stedman, a sound engineer who uses his expertise in subsonic resonance to debunk hauntings, a task he pursues with a missionary zeal. When he accepts a journalist's challenge to investigate a particularly powerful haunting at The Dawlish Inn, a fifteenth-century tavern situated on the south coast of England, something down in ancient cellar of the inn is waiting for him, and it seems to be bent on destroying all who challenge it.
Cradle of the Dead is a crime-horror story set on a bleak Christmas Eve in Alderville, an isolated and abandoned hospital. Two gangland enforcers bring a captive to its grounds and discover that what seemed like a simple murder contract is something far more horrifying.
Though we first brought on both as eBook-only releases, we were able to explore other printing options and these great stories were able to find life together the format found so much more often in the past — the two-in-one, the Double, the Tête-bêche — what Blood Bound Books is calling a Double Feature.
I hope that not only will these titles find an audience, but also that more publishers will consider this binding to be a viable option to revive the novella form in our favorite genres.