Borders Files for Bankruptcy
Borders Files for Bankruptcy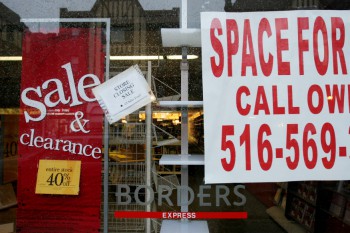 Borders Group, owner of 659 bookstores across the United States, has filed for Chapter 11 bankruptcy protection.
My lawyer buddies tell me this doesn't actually mean they've filed ten previous chapters of bankruptcy, so apparently bankruptcy doesn't proceed the way books do. Figures.
Borders said it will close about 200 of its most under-performing stores in the next several weeks. The list of stores that will close is here.
Today Borders is the country's second-largest book retailer, just behind Barnes & Noble, with over 5,800 full-time and nearly14,000 part-time employees.
This follows the news that Barnes & Noble put itself up for sale last August, following a 45% slump in share price and a nearly 5% decline in year-over-year sales from store operations. It's a tough time to be a brick-and-mortar book retailer.
Borders released a statement today saying:
It has become increasingly clear that in light of the environment of curtailed customer spending, our ongoing discussions with publishers and other vendor related parties, and the company's lack of liquidity, Borders Group does not have the capital resources it needs to be a viable competitor.
Alice reminds me it's probably time to get off my butt and redeem about a hundred bucks in assorted Borders gift cards we've accumulated over the years, before they're rendered useless. The cards are scattered around the house, currently pulling duty as attractive bookmarks. She's probably right, although I'll doubtless lose my place in several books as a result.  I need to think about it.