Barnes & Noble up for sale
Barnes & Noble up for sale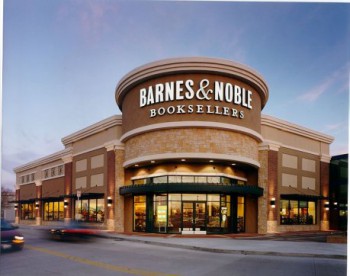 When I moved to St. Charles, Illinois, in 1997, one of the things that drew me to the town was the abundance of used bookstores. There were roughly a half-dozen in easy driving distance, and two in walking distance. I spent a lot of happy hours picking through the vintage science fiction and fantasy paperbacks, until Alice finally pulled me away to go look at stoneware or baby clothes.
Those bookstores are now gone. Several factors conspired to destroy the viability of the small-town bookstore in the 1990s, but one of the chief culprits was the arrival of the suburban megabookstores erected by Borders and Barnes & Noble.
Scarcely a decade later, Borders USA narrowly avoided bankruptcy with a round of debt refinancing in 2009 (Borders in the UK was neither so swift nor so lucky, and went belly up last year). And now comes the news that America's largest chain of high-end bookshops, Barnes & Noble, has put itself up for sale in the latest sign of the turbulent changes in US book retailing in the new age of the iPad and the Kindle.
B&N owns some 720 bookstores across the US.  The announcement comes after a 45% slump in share price over the last year, and a nearly 5% decline in year-over-year sales from its store operations, to $4.3 billion.
It's hard to drum up too much sympathy for the corporation partly responsible for the death of all those local bookshops, and part of me sees a healthy dose of poetic justice here.  But at the same time, B&N built some of the finest, most attractive, and most well-stocked bookstores I've ever seen, and it put one right on my streetcorner. If they vanish, they'll be dearly missed.