Announcing the Winners of Free Copies of The Ultra Thin Man and Echopraxia
Announcing the Winners of Free Copies of The Ultra Thin Man and Echopraxia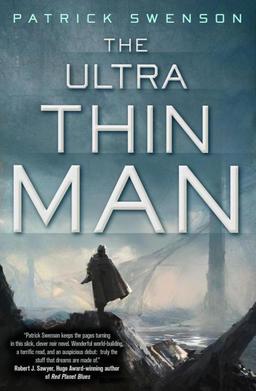 Last month, we told you that you had a chance to win two new novels from Tor: Patrick Swenson's The Ultra Thin Man, and Peter Watts's Echopraxia. How did you enter? Just by sending us a one-sentence review of your favorite Tor fantasy or science fiction novel. Easy as that! One winner for each book was drawn at random from all qualifying entries.
We are pleased to announce that the winner of The Ultra Thin Man is Guillermo Cantu, who reviewed a fantasy classic by Glen Cook:
The Black Company is the gritty tale of a band of crafty mercenaries that get entangled in a war of ancient and wicked sorcerers against questionable rebels, as told by the sarcastic company analyst, from the trenches.
And the winner of Echopraxia is Lee Hunter, with this one-sentence review of his favorite Tor science fiction title:
David Weber's Off Armageddon Reef is an original story about fighting in the face of overwhelming, impossible odds; and the innate human will to survive and overcome an enemy.
The Ultra Thin Man was published by Tor Books on August 12, 2014. It is 334 pages, priced at $25.99 in hardcover and $12.99 for the digital edition. The cover is by Victor Mosquera. Echopraxia was released on August 26, 2014 by Tor Books. It is 383 pages, priced at $24.99 for the hardcover and $11.99 for the digital version. The cover is by Richard Anderson.
Thanks to all those who entered our contest and thanks again to Tor for making it all possible!