Enter the DragonCon
Enter the DragonCon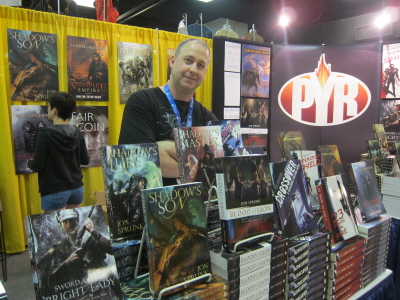 This past weekend, I attended my fourth DragonCon in sunny Atlanta.
It's a working vacation for me, where I spend most of my time at the Pyr Books booth telling people about the wonderful products this SFF imprint produces, but I also make a little time to walk around and see the sights. And there are a LOT of sights to see at DragonCon.
The host hotels. Sadly, I haven't been able to snag a room at any of the four massive host hotels since 2010, but that doesn't stop me from walking through them and marveling at the sheer scope of this convention. There are a ton of people. (Attendance is listed as 57,000 in 2013, and I'd wager there were more than that this year.) And so many people are in costume.
Cosplay has grown in popularity over the years, and DragonCon is one of those venues where people come out to show their stuff. (My wife attends in her Xena, Warrior Princess costume, which gets a lot of attention.) Some of the costumes are just fun and light, but others are true works of art, as good as (or better) than the costumes used on major movie sets.
This year, I saw Yaya Han showing off her cosplay of Enira, the Banshee Queen, which was spectacular. There are so many wonderful costumes, and the party lasts until the wee hours of the morning. If you love cosplay, DragonCon is a place you need to see.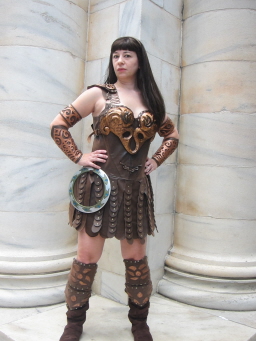 But there's a lot more than cosplay at DragonCon. The convention features hundreds of guests, including celebrities, authors, artists, game designers, and more. There are more tracks and panels than you can shake a stick at.
Yes, some of the more popular ones involve waiting in line, and those lines can get very long. But if you've always wanted to meet your favorite stars and artists, this is a great opportunity. I admit I get a little star-struck when I meet a celebrity. (Buy me a drink at the con bar sometime and I'll spill some of my funniest experiences.)
I haven't even mentioned the dealer rooms. Hundreds of booths featuring everything a SFF lover could want: books, games, costumes and accessories, artwork, figurines, and did I mention books? Plenty of great authors are in attendance, signing their work and meeting readers.
This year, I picked up some Pokemon plush animals for my son, a few Legos, books (of course), and three new sets of D&D dice. Honestly, every year I feel like a kid in the world's biggest, best candy store.
I love this con. (No kidding, eh?) It's where I meet old friends I don't get to see very often, due to location or timing, and a great place to make new friends based on a mutual love for scifi, fantasy, costumes, and rum. It's my Christmas, Halloween, and Thanksgiving Day all rolled up into one huge party.
I'll be there next year. So if you attend, swing by the Pyr booth and say hello.
---
Jon Sprunk is the author of the fantasy epic Blood and Iron as well as the Shadow Saga trilogy (Shadow's Son, Shadow's Lure, and Shadow's Master). For more on his life and writing, check out www.jonsprunk.com.