Action Comics #1 Sells For $3,207,852 on eBay
Action Comics #1 Sells For $3,207,852 on eBay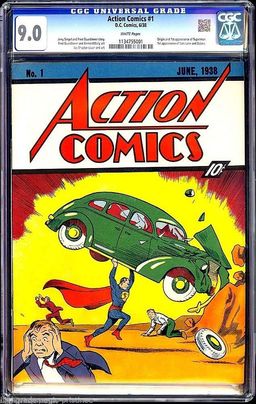 If you've been on eBay at all in the last ten days, you've probably seen banner ads for an unusual auction: a copy of Action Comics #1, featuring the first appearance of Superman. Written and drawn by Jerry Siegel and Joe Shuster, Action #1 was published on April 18, 1938 (cover-dated June) by National Allied Publications, the company that eventually became DC Comics. Although it had a print run of over 200,000, only some 50-100 copies of Action #1 are still known to exist.
The seller, Darren Adams of Pristine Comics in Washington, had the comic professionally graded by CGC at a 9.0. Only one other copy has ever achieved a 9.0, and it sold for $2.16 million in 2011. Until yesterday, that was the highest price ever paid for a comic book. Adams didn't restrain his enthusiasm in the auction description:
For sale here is the single most valuable comic book to ever be offered for sale, and is likely to be the only time ever offered for sale during many of our lifetimes… This is THE comic book that started it all. This comic features not only the first appearance of Superman, Clark Kent and Lois Lane, but this comic began the entire superhero genre that has followed during the 76 years since. It is referred to as the Holy Grail of comics and this is the finest graded copy to exist with perfect white pages. This is…. the Mona Lisa of comics and stands alone as the most valuable comic book ever printed.

This particular copy is the nicest that has ever been graded, with an ASTONISHING grade of CGC 9.0! To date, no copies have been graded higher and only one other copy has received the same grade. It is fair to say though that this copy blows the other 9.0 out of the water. Compared to the other 9.0 that sold for $2.1million several years ago it has significant superior eye appeal, extremely vibrant colors and PERFECT WHITE PAGES.
The auction ended at 6:00 pm Pacific time on Sunday. Bidders had to be pre-qualified and there were a total of 48 bids. The winning bid, placed 32 seconds before the end of the 10-day auction, was made by an unidentified eBay veteran with feedback from over 2,500 sellers. See the eBay auction listing here.