Vintage Treasures: Stephen E. Fabian's Ladies & Legends
Vintage Treasures: Stephen E. Fabian's Ladies & Legends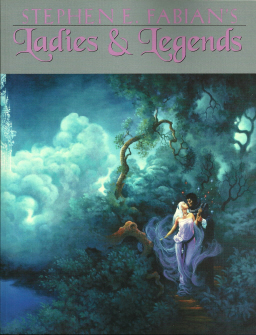 I brought home two boxes of treasures from the 2014 Windy City Pulp & Paper show in April. I've been very happy with my various finds, which included a rich assortment of eye-catching pulps, vintage paperbacks, classic anthologies, and hard-to-find fanzines and magazines. I've covered some of the more interesting items here in the past few months.
But I've saved the best for the last: a luscious collection of black and white artwork from one of my all-time favorite artists, Stephen E. Fabian.
A few years ago, Scott Taylor asked me to provide my list of nominees for his Top 10 Fantasy Artists of the Past 100 Years and I had Fabian right near the top, along with Wally Wood and Al Williamson. (None of those three made the list. Go figure.)
Stephen Fabian is one of the great craftsmen in all of fantasy. It's not merely his command of the medium and his consummate technical skill… his art is genuinely beautiful (a characteristic I frequently find lacking with some of his contemporaries). Fabian has an unerring eye for composition, perfectly positioning his knights, mermaids, and grave robbers among moonlit ruins, floating fairy castles, and more imaginative settings.
He's equally at home with humor, action, and horror, and all are on display in Stephen E. Fabian's Ladies & Legends. He's frequently at his best with pen and ink drawings, as he is here. This is a gorgeous book and, like the best fantasy artwork, it will set your imagination soaring.
Warning — some adult content ahead.
[Click on any of the images for bigger versions.]
Fabian has illustrated numerous authors and titles. I think I came across him first with his covers to the 70s and 80s Fantastic magazine, and in his marvelous work for Arkham House (such as this Basil Copper cover.)
The pieces in Ladies & Legends are taken from many sources, including Jack Vance's Rhialto the Marvelous, Cugel's Saga, Morreion, and Eyes of the Overworld; Gordon R. Dickson's The Space Swimmers; Clive Barker's Books of Blood; Keith Robert's Anita; Darrel Schweitzer's Tom O'Bedlam's Night Out; Brian Lumley's The Compleat Crow; and Fabian's portfolios Conan: Queen of the Black Coast, Fantastic Nudes, and The Tower of the Elephant.
There's also generous samples of illustrations from Weird Tales, Science Fiction Review, and other places — including this moody piece from Paul Ganley's Weirdbook: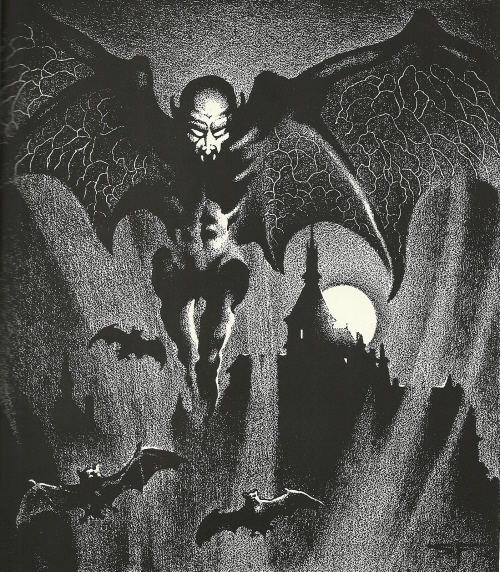 Fabian didn't do a lot of science fiction… but when he did, every picture told a story. Here's a full-page illo for Roger Zelazny's classic tale "For a Breath I Tarry" (1980).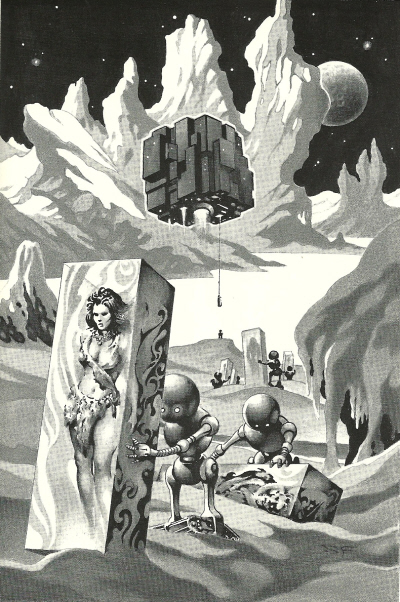 As much as I admire his magazine work, Fabian really shines in his portfolios, where we frequently find some of his most detailed pieces.
Here's a few samples from his 1976 portfolio The Tower of the Elephant, inspired by the classic Robert E. Howard story.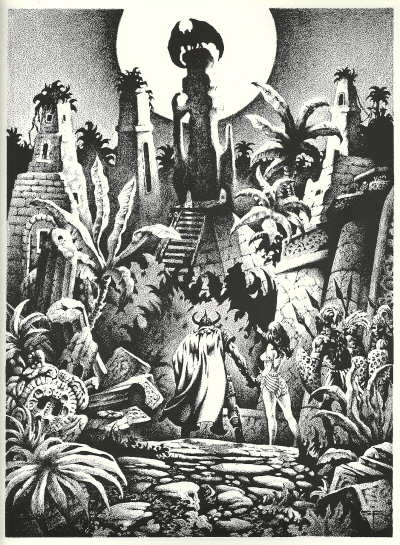 You can see why I admire his composition.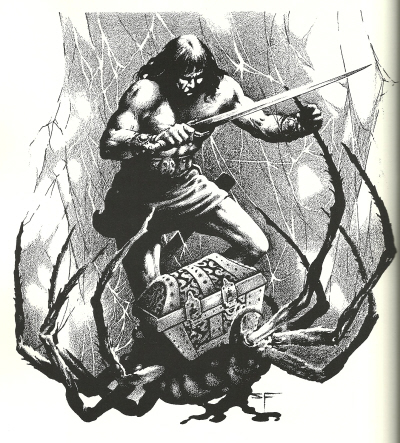 Here's two action pieces, taken from the same portfolio.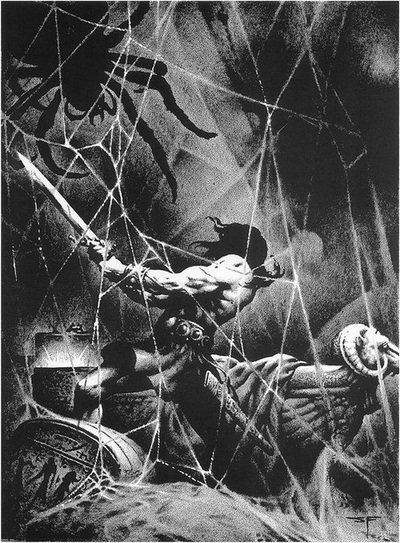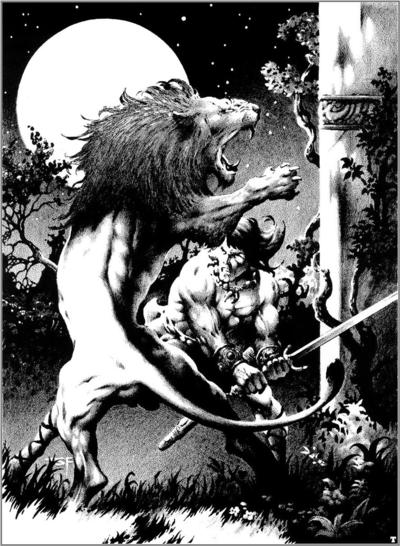 And here's a fine character study from Brian Lumley's The Compleat Crow.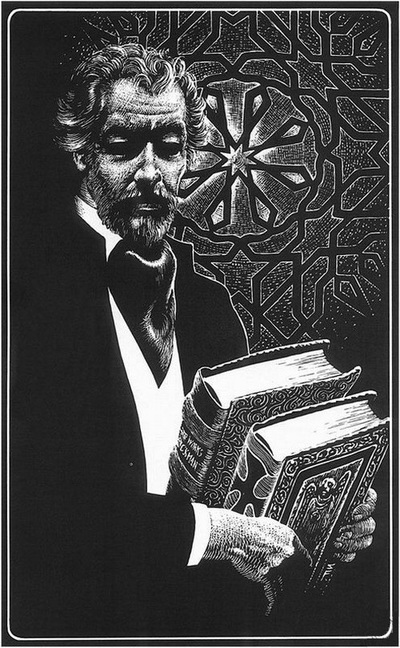 No one does fantasy castles like Stephen Fabian.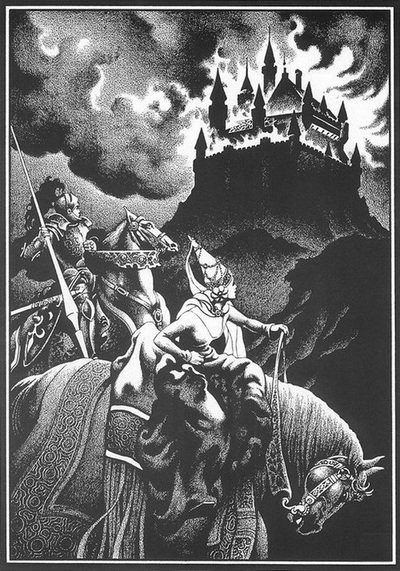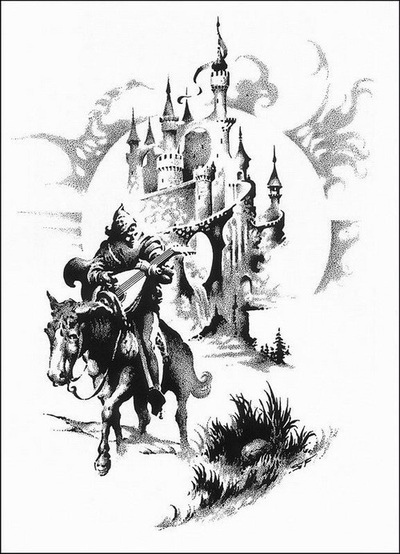 Fabian is equally at home in urban settings as he is among castles and shadowy ruins. To prove it, here's a lovely piece from Darrel Schweitzer's Tom O'Bedlam's Night Out.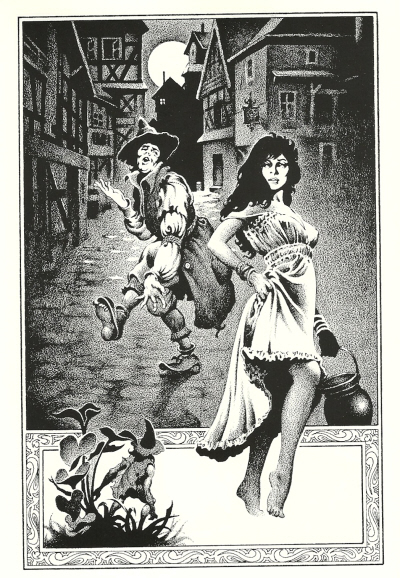 And did I mention his gift for composition?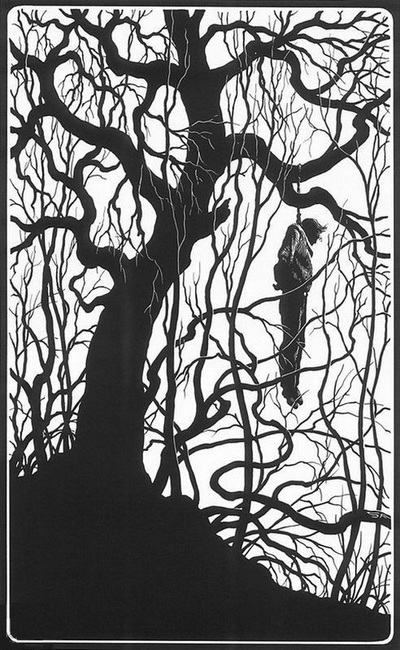 Jack Vance was a frequent source of inspiration for Fabian. Here's a ghostly spectre from Vance's Eyes of the Overworld.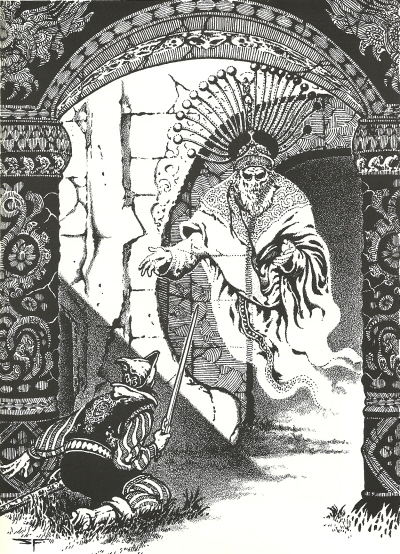 And one of his fine, spooky, underwater tableaus.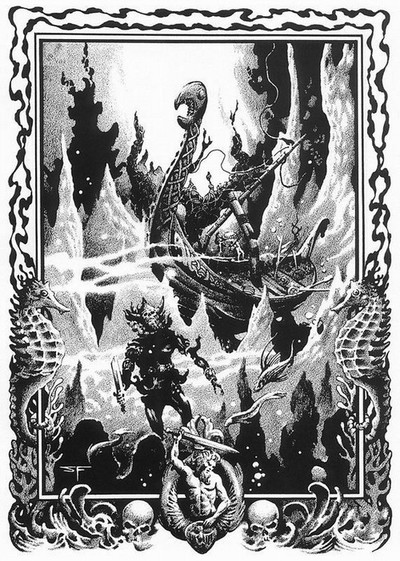 We've touched on a lot of Legends, but we've been a little light on the Ladies. I'm struggling to keep our PG-13 rating here, so here's one of the tamer samples from Fabian's Fantastic Nudes portfolio, this one featuring the lovely Duare from Edgar Rice Burrough's  Pirates of Venus: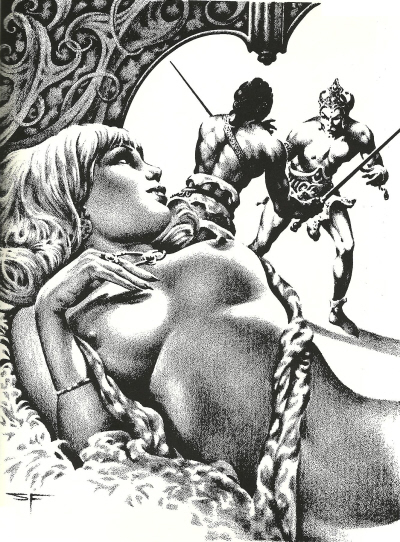 There isn't a great deal of nudity in Ladies & Legends (if you're concerned about that sort of thing), but there is certainly some. I do appreciate the fact that the characters Fabian depicts nude are actually nude in the original texts — as in the case of Edgar Rice Burroughs's Duare and H. Rider Haggard's Ayesha, for example. It's a small thing, and perhaps that doesn't make it any less gratuitous, but there it is.
I found Stephen E. Fabian's Ladies & Legends a delight from start to finish. The image reproduction is excellent and you can see a wide range of styles on display. Every image is given a full page. It would have been nice if there had been a color section — Fabian has done some really splendid color work over the years — but really I have no complaints.
If you'd like to see more samples from the book, there's a fine collection of online scans here.
We looked at Stephan Fabian's beautiful covers for Fantasy magazine in the 1970s and '80s here.
Stephen E. Fabian's Ladies & Legends was published in 1993 by Underwood-Miller. It is 136 pages with an introduction by Gerry de la Ree. It is priced at $14.95 in oversized paperback. I bought a new copy for $8 from Maureen at Adventure House at the Windy City Pulp and Paperback show, along with 64 issues of Interzone, part of the fabulous collection of Les Mayer, a member of First Fandom.
So far, I've covered the following treasures found at Windy City this year:
Super Science Fiction pulps
The Vril Agenda by Derrick Ferguson and Josh Reynolds
Science Fiction of the 30′s edited by Damon Knight
Fantastic Novels, July 1948
Two Decades of Interzone
The Year's Best Horror Stories: Series XIII edited by Karl Edward Wagner
Weird Tales #290
Stephen E. Fabian's Ladies & Legends
The Bumper Book of Ghost Stories, edited by Aidan Chambers
Subterranean Magazine #2
See more of our recent Art articles here.