Dawn Duellist Society: 20 Years of an Urban Fantasy
Dawn Duellist Society: 20 Years of an Urban Fantasy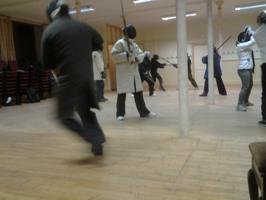 Twenty years ago this week, an odd assortment of young men gathered in — I kid you not — a pagan temple beneath a crystal and incense shop on Edinburgh's Morningside Road.
Though the walls were covered in murals of gods and goddesses, these fellows weren't here to worship; this was just the kind of venue you end up with if you're plugged into the local Bohemian scene. No, they were here to found the Dawn Duellists Society, devoted to studying the Historical European Martial Arts.
And fighting. And drinking. And, before the world got twitchy and trigger happy, sneaking into the park to fight duels at dawn (hence the name). A couple of years later, the club got its venue in a Gothic church hall (which is when I joined ostensibly for a year so I could write good fight scenes… that was about seventeen years ago) and has been meeting there ever since.
Believe it or not, even then the Dawn Duellists were actually part of an international Historical European Martial Arts movement.
HEMA is distinct from Battle Reenactment because we use modern safety kit, and from SCA because we use steel and don't dress up or take on personas. It's very much about the martial arts, arts plural because there is a tide of ancient fencing manuals just waiting to sweep you away. The earliest is the Walpurgis Fechtbuck otherwise I.33, a sword and buckler manual dating back to the 1320s. The most recent manuals include 1900s military sabre and WWII bayonet and combat dagger.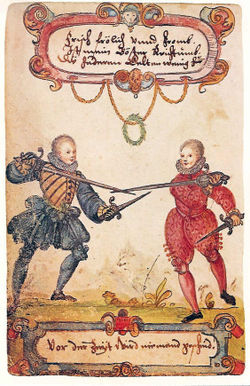 Though people — including Robert E Howard! — have been messing around with old weapon styles since the late 19th century, it was the 21st century Internet that really got things going. The manuals and translations are all available online. Essentially, if it's a historical European weapon and there's any kind of evidence, then somebody somewhere has learned or reconstructed the associated martial art and would love to show you how to use it. Just Google your weapon of choice plus HEMA.
So, why am I telling you this?
My main motivation, really, is that I want to say: You're reading Black Gate, so you probably think swords are cool. Did you realise there's a well-established martial arts movement out there just waiting to teach you how to use one?
Most exercise — let's face it — is really very boring. Not so sword fighting. Better still, once you're hooked on swords, then you have a good reason to want to exercise. The fitter you are, the better you'll fight. There's also this thing we geeks have. We over intellectualise. We can't stop thinking, analysing… CLANG! Hard to do that when somebody's trying to hit you with 4ft of steel. So come join us!
Also, if you're a writer, then this may soon be a professional necessity — which leads me to my next reason…
An inordinate number of modern Fantasy writers now know how to use their weapons.
This isn't entirely a new development. As far back as the 1970s writers like Poul Anderson were joining the SCA and getting a sense of swords are real practical weapons rather than sharpened crowbars reserved for the mighty-thewed. What's different now is that your nearest HEMA club is just a Google away. It's no longer a special thing done by a devoted few.
End result is that the roll-call of writers who can fight with swords includes not just established stars like Neal Stephenson, Miles Cameron, and Adrian Tchaikovsky, but also a growing proportion of the newer writers like me (my fight scenes trigger your mirror neurons, apparently…), so much so that almost all the writers of the Foreworld Sidequests also have HEMA credentials.
After all, while you're struggling with your art, what could be more natural than wandering into your local sword fighting club? How can you resist? This explains why I'm not the only writer in our club, just the only one with fiction in print so far.
Soon, the fight scenes in older books will start to feel dated with their narrative summary, thinly-veiled sports fencing choreography and 50lb broadswords. It's a bit like the difference between the fight scenes in The Black Shield of Falworth and those in Kingdom of Heaven.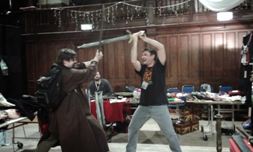 As a newer writer, this makes me happy (though I am aware that older writers don't have to learn to fight, merely watch Youtube clips and ask the right questions). However, on its own it's not likely to have much impact on readers. A fight scene is still a fight scene. If modern ones are written differently, so what? They still serve the same purpose.
Far more important is that this will strengthen Heroic Fantasy as a genre. The fight scenes of old — they were like those quaint Romances that stop at the bedroom door or go all vague and poetic for the love scenes. Even Robert E Howard's Conan topples into narrative summary at the drop of a hat. The new books, however, can put a sword in your hand and make you feel what it's like to use it, can strap plate armour on your back and smother you with its heat, deafen you with the crash of blade on plate. Speaking as a reader, this is a good thing.
Finally, as, during our 20th-anniversary party, I sat in the pub amongst Goths, punks, metal heads, and other counter- and alt-cultural types jocks listening to our founders proposing toasts, I realised that it's all rather Urban Fantasy.
We HEMA folk live in a world where scruffily dressed men and women carrying odd-shaped bags congregate in the privacy of obscure buildings to whack each other with an assortment of Medieval and Pre-Modern weaponry. Our children grow up thinking it's normal to have a bucket of swords in your study corner and to find their father and his mates fighting in armour in the back garden.
Who's to say we aren't really training for that moment when the Chosen One will lead us back through the Wardrobe to unseat the Leonine Theocracy and restore the Narnian Matriachy?
As for the Dawn Duellists Society, we're still going strong. A bit like an old rock band, none of the original personnel are still with us. Of the founders, most drifted away to other places and martial arts. However, three went solo: Paul Macdonald has his own academy in Edinburgh, Bob Brooks founded the Hotspur School of Defence in Alnwick, England, and Guy Windsor teaches and writes about HEMA from his school in Finland(!), occasionally shipping out to do fight choreography and consulting for screen and game projects. They're not the only people to spin off. We're good at producing experts, but only have so many teaching slots, hence Edinburgh's Black Boar and Stork's Beak schools.
Me? I've only been in the society for a decade and a half. I'm content with my slot teaching German Longsword. If you're free on a Tuesday night, come join us…
---
M Harold Page (www.mharoldpage.com) is a Scottish-based writer and swordsman with several franchise books on Amazon. His creative writing handbook, Storyteller Tools is now available on Amazon. More importantly, he really really wants to put a sword in YOUR hand and teach you how to use it.