In Praise of Paperbacks
In Praise of Paperbacks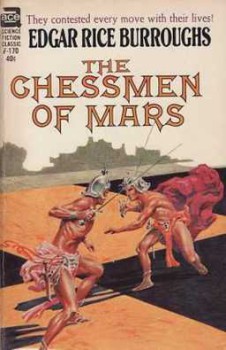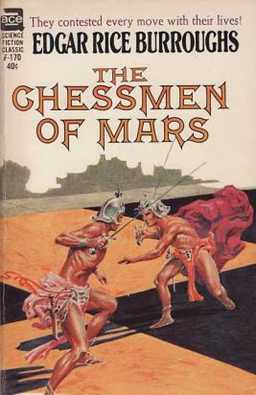 First, a disclaimer. The Luddite rant that follows is my personal view only. I acknowledge the many benefits and advantages of electronic reading devices and to all of the people (many of them dear friends of mine) who would never think of parting with their Kindle, iPad, Nook, or whatever, this is in no way a judgment or condemnation of you or your reading preferences. It is simply about me and my preferences. Now, let the rant begin.
I teach elementary school, and when I began that job, ten years ago, I was faced with the "problem" of what to do with my summers. Yardwork? Get the garage in order? Any of the thousand other home projects that clamor for attention during the working week and never get done for lack of time or energy? Attractive as these options are, I quickly hit upon the happy idea of passing my summers in the same way I did as an adolescent, in reading through as many SF/fantasy paperbacks as I possibly could in the allotted time. Though age does take its toll, and gone are the days when I had the stamina to read The Chessmen of Mars or Have Spacesuit, Will Travel through in a single sitting, as I did when I was thirteen, I still manage to do all right. The choice to spend my extended vacations reliving those great days of blissful, carefree reading is one of best I've ever made.
A couple of summers ago, having just finished one book (I think it was one of E.C. Tubb's Dumarest of Terra novels), I looked around for my next read. There on the shelf was a paperback copy of The Stars Are Ours by Andre Norton. My copy is a 40 cent paperback, published by Ace in 1954. The book is great fun and I quickly zipped through it.
Following a familiar pattern for much 50's SF, the story is set in a post-nuclear holocaust world in which the survivors, blaming science for the disaster, turn against learning and technology itself. Those scientists who are left are a persecuted minority. Young Dard Nordis's brother perfects a kind of suspended animation that permits a handful of people to escape this decaying and repressive Earth to seek a new planet to settle on.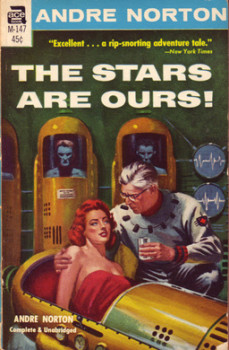 Once there, Dard and his companions find evidence of a civilization-destroying war and establish contact with a friendly sea-dwelling race. Everything in the novel is very well done; Norton excelled at this kind of fast moving, optimistic SF adventure.
However, I'm not really here to talk about the story, which was wonderful fun – instead, I want to talk about the book.
As I said, it was published by Ace in 1954. It's in beautiful shape for a sixty year-old paperback. (It's in better shape than I am, truth be told.) These old Ace books had their own unique character – for one thing, they were smaller than standard paperbacks, just the perfect size for carrying with you. (Aces of this era were six and a half by four and a quarter inches.)
I bought this one in 1972, at Powell's Book Exchange and Thrift Shop, on Eastern Avenue in Bell Gardens, California – some of my old Bell Gardens friends may remember the place, though it's certainly long gone now. It was right around the corner from my middle school, Bell Gardens Intermediate. Every day after school, I would take the seventy-five cents I was supposed to spend on lunch (sorry, Mom) and go to Powell's, where I would buy two or three or four used paperbacks – this one probably cost me twenty or twenty five cents.
I love everything about this book (quite apart from the very enjoyable story). I love the gaudy cover, with its iconic pulp SF imagery (in a shadowy future lab, a gorgeous redhead emerges from a suspended-animation capsule – c'mon!). I love the breathless blurbs peppered on the back cover and opposite the title page, words that enticed a young reader almost as much as the cover – almost. I love the ripe, musty smell of the cheap paper. I love the memories that it arouses of a unique time and place in my life, when I spent countless adolescent after-school afternoons poking around the dusty, dimly lit store, searching the shelves for hidden treasures.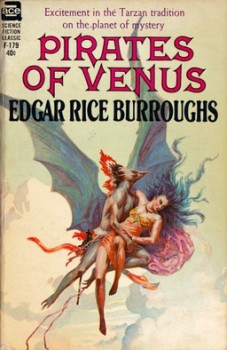 Out of that store I carried home Citizen of the Galaxy and The Martian Chronicles, Childhood's End and Pirates of Venus, Paingod and Stranger In a Strange Land. One day a shelf was filled with dozens of issues of Astounding Science Fiction from the 1950's. I had the fun of reading Double Star and Martians, Go Home in the magazine that originally published them. Every day I showed up at Powell's with a pocketful of change; I left with worlds, universes.
And beyond all these pleasures of association, I love the fact that when I open The Stars Are Ours, the name Jim Buchanan is neatly written on the inside of the front cover. Whoever Jim was, he loved these Ace paperbacks as much as I do; he had a lot of them and he took good care of them.
How they wound up at Powell's I don't know, but I bought as many of them as my lunch money would allow; I have a couple of dozen of them and they formed the beginning and the core of my SF collection. They give me a tangible connection to another human being, a man I never met but will always be grateful to.
After I bought The Stars Are Ours, I put it on a shelf, where it waited for four decades. (Then as now, I bought books faster than I could read them.) Fifty-eight years after it was printed and 40 years after I bought it, it was ready when I was, ready for me to pick it up and read it.
I wonder – will a Kindle or iPad bought today carry any memories or deliver any pleasures other than the text itself, half a century later? Will it and the books purchased for it even still be viable, or will its technology have been superseded twenty times over in the intervening years? (Gotten rid of all your floppy discs and VHS tapes yet?)
Will it bear any trace of the person who owned it, convey the faintest hint of the life that it touched, hold any attraction for children or friends years later? (in a severe family financial crisis some years ago, I tentatively talked about selling my books – that tells you how severe the crisis was. My oldest son made it absolutely clear that we would get by any way we could, but would not under any circumstances sell my books. They will be me to him when I am gone.)
The march of time and technology can't be stopped, of course, nor should it be, but we can still make room for things that have their own irreplaceable, individual worth. That's why I'm keeping my paper – books are more than texts, and convenience isn't the only legitimate value.
---
Thomas Parker is a native Southern Californian and a lifelong science fiction, fantasy, and mystery fan. When not corrupting the next generation as a fourth grade teacher, he collects Roger Corman movies, silver age comic books, Ace doubles, and despairing looks from his wife.