New Treasures: Fantasy Scroll Magazine #1
New Treasures: Fantasy Scroll Magazine #1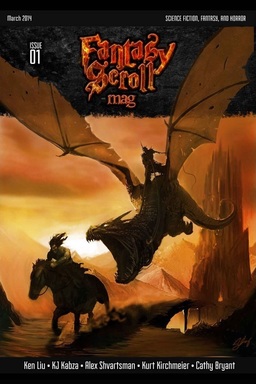 Well, here's some exciting news. April 15th saw the release of a brand new, professionally produced digital fantasy magazine: Fantasy Scroll.
Here's the description, from their website:
Fantasy Scroll Magazine is an online, quarterly publication featuring science fiction, fantasy, horror, and paranormal short-fiction. The magazine's mission is to publish high-quality, entertaining, and thought-provoking speculative fiction. With a mixture of short stories, flash fiction, and micro-fiction, Fantasy Scroll Magazine aims to appeal to a wide audience.

Issue #1 brings you twelve short stories from authors such as Ken Liu, Seth Chambers, KJ Kabza, Alex Shvartsman, Hank Quense, and more. The magazine contains a well-balanced mix of original stories and reprints from new authors, bestsellers, and award-winning writers, plus a variety of nonfiction features, such as author and editor interviews, book reviews, and movie reviews.

The magazine is open to most sub-genres of science fiction, including hard SF, military, apocalyptic & post-apocalyptic, space opera, time travel, cyberpunk, steampunk, and humorous. Similarly for fantasy, we accept most sub-genres, including alternate world, dark fantasy, heroic, high or epic, historical, medieval, mythic, sword & sorcery, urban fantasy, and humorous. The magazine also publishes horror and paranormal short fiction.

Kindle Magazines are fully downloaded onto your Kindle so you can read them even when you're not wirelessly connected.
Fantasy Scroll Magazine is edited by Iulian Ionescu, Frederick Doot, and Alexandra Zamorski. Copies are $2.99, for roughly 134 pages. I quite like the cover art, "The Dragon Rider," by Jonathan Gragg, which speaks to me of an adventure fantasy mindset (click on the image at right for a larger version). See the complete contents of issue #1 here. Check it out.
See all of our recent New Treasures here. And thanks to John DeNardo at SF Signal for the tip!