Jon Sprunk's Blood and Iron, Volume One of The Book of the Black Earth, on Sale Today
Jon Sprunk's Blood and Iron, Volume One of The Book of the Black Earth, on Sale Today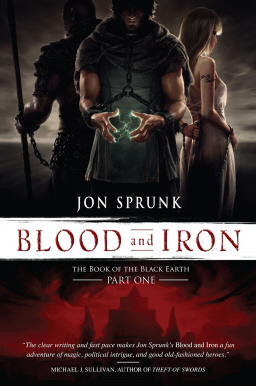 Jon Sprunk's highly anticipated Blood and Iron, the first book in his new series, The Book of the Black Earth, finally goes on sale today. We gave you the scoop on the book last month; last week Jon peeled back the curtain on the book's origins in a guest post at Fantastical Imaginations.
The Book of the Black Earth series is set in the same secondary world as my Shadow Saga, but in a different region far to the east of Caim's adventures. It follows three people as they struggle for freedom in an ancient land called Akeshia, where magic is worshipped and powerful God-Kings (and –Queens) hold the power of life and death over a vast race of people.

Horace is a shipbuilder and sailor who embarks on a Great Crusade for his country, but winds up shipwrecked on the shores of his enemy. Taken captive and made a slave, he discovers a hidden talent for sorcery, and thereby comes of the attention of the local ruling queen. Alyra is a slave. As one of the queen's handmaidens, she is lovely, intelligent, and obedient. She is also a spy in the service of a foreign government, sent to turn the greedy eyes of the Akeshians away from her homeland. Jirom is a former mercenary turned gladiator. Dragooned into the queen's army, he joins a group of subversive slaves who crave freedom…

One of the things I really wanted to tackle in this series was an original magic system. I played around with a few concepts until I hit on one that fit my world and my story. It plays on the basic "elemental" magic (earth, air, fire, and water) with a few twists of my own.
Jon Sprunk is the author of the Shadow Saga (Shadow's Son, Shadow's Lure, and Shadow's Master) and a mentor at the Seton Hill University fiction writing program. He is a regular blogger for Black Gate. Blood and Iron was published by Pyr Books on March 11, 2014. It is 445 pages and is available in trade paperback for $18.00 ($11.00 for the digital version). Learn more at Pyr Books or read our exclusive excerpt here.