Another Crowdfunding Fail: John Campbell Self-Destructs on Kickstarter
Another Crowdfunding Fail: John Campbell Self-Destructs on Kickstarter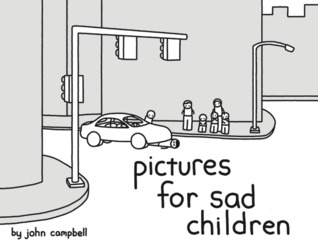 We've reported here on a handful of Kickstarter failures, including Erik Chevalier, whose Doom That Came To Atlantic City campaign raised an astounding $122,874 on a $35,000 goal, and who managed to spend virtually all the money without producing a single copy of the game. But I don't think I've ever read an example as egregious as John Campbell's Sad Pictures for Children.
Campbell is the author of the web comic Pictures for Sad Children. He self-published his first book, collecting the first 200 comics, in 2011 and launched a Kickstarter campaign in April 2012 to fund a second volume. He set a goal of $8,000 and raised over $51,000.
Unlike Chevalier, Campbell managed to print the books and began distributing them to backers, but he quickly became disillusioned with the level of effort and cost involved. As complaints from his backers mounted, an apparently furious Campbell posted a video showing him burning 127 copies of the book, one for every e-mail he received requesting an update.
In a rambling and nonsensical Update 32, Campbell vents his wrath at his backers, saying no more books will be mailed, that he'll burn one copy of the book for every attempt to contact him, and asking for more money — this time with no promises attached.
I shipped about 75% of kickstarter rewards to backers. I will not be shipping any more. I will not be issuing any refunds. For every message I receive about this book through e-mail, social media or any other means, I will burn another book… If you would like a refund, please contact a fan of my work directly for your money. This is where the money would come from anyway. I am cutting out the middle man…
You could try to harass me or inconvenience me or tell other people negative things about me or this kickstarter in the hope that this will affect me negatively. Be aware that each attempt to contact me about this book will individually result in the burning of a book until the books are gone…

I want direct funding for my living necessities… I am looking for people who do not feel they need to see any "return" on their "investment…" I'm looking for people who like me were born with a lot of privileges but who have had the awareness and emotional stability to keep their bucket under the faucet when the money comes out.

I am not looking for the support of anyone who wants a book, or wants to see me put stick figure comics on the internet. I do not need the support of anyone who thinks that I will deserve to eat and sleep only after I have fulfilled some standard they've chosen to hold me to. I am looking for people who believe that if you spend your life in a small room thinking, you deserve to live and breathe the same amount as someone who spends their life doing intense physical or mental labor… I'd love to hear that there are people interested in meeting another person's needs directly with no hope for reward of any kind.
Wow. It's hard to determine from that last paragraph if he's in the middle of a complete breakdown, engaged in a philosophical attack on capitalism, or both.
Various media outlets have tried to make sense of Campbell's meltdown. Comic site Bleeding Cool called his rant "Bizarre… a lot of psychobabble which makes Shia Labeouf look like Andy Capp." And Aja Romano at the Daily Dot wonders "Is this a Kickstarter scam or performance art?"
Read the latest updates from Campbell at his Kickstarter page.