Vintage Treasures: Doc Sidhe by Aaron Allston
Vintage Treasures: Doc Sidhe by Aaron Allston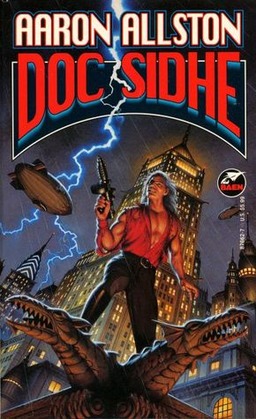 We lost prolific game designer and author Aaron Allston last week and, as often happens after we lose someone of importance in the industry, I find myself dwelling on their contributions. By the time of his death, Allston was renowned chiefly for his popular Star Wars books. But the first of his novels I ever purchased — and indeed, the one I still think of first — was his homage to Doc Savage, the 2001 novel Doc Sidhe. Doc Sidhe is an unabashed salute to thirties pulp fiction. Here's the book description:
Olympic kickboxer Harris Greene's career has just self-destructed, and both his manager and his fiance, Gaby, have dumped him. While looking for Gaby, he interrupts a bizarre trio as they are kidnapping her, and he is hurled into another, very weird, universe. His only hope is Doc Sidhe, this Art Deco universe's greatest champion of justice.
And here's Blue Tyson's spot-on review:
Imagine if there was a counter earth, stuck in the 30s, where, basically, elves and trolls are real. The coolest thing, however, is that Doc Savage is real, too. Except for the fact he is a Daoine Sidhe sorcerer, and has a higher mortality rate for his crew.

A down on his luck kickboxer and his girlfriend end up there, via a conjurer's circle, and a plot to change the magical rules of relations between the two worlds. Oh, and the evil villain is Doc's son. This is an excellent homage, a good urban fantasy, and a bit of The Untouchables, to boot…
Doc Sidhe had one sequel: Sidhe-Devil, published by Baen in 2001. It was published by Baen Books in May 2001. It is 352 pages, originally priced at $5.99. It is currently out of print; there is no digital edition. See all of our recent Vintage Treasures here.