New Treasures: Bone Dance by Emma Bull
New Treasures: Bone Dance by Emma Bull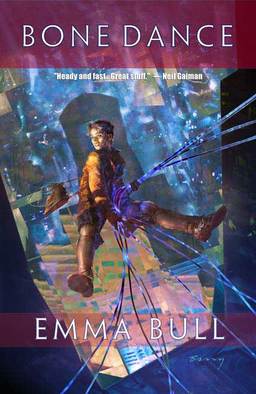 I'm not all that familiar with the fantasy of the 90s. That's the decade I graduated, got a job, got married, had three kids… and my leisure reading time fell to zero. Things got better after the year 2000 as life settled back into a routine, but when I look back at the major publishing events of that decade, things are still kinda fuzzy.
Fortunately, I'm not the only person working at Black Gate. In fact, I'm surrounded by annoying young people who first discovered fantasy in the 90s, and devoured everything on the shelves. I can't walk to the water cooler without overhearing them go on and on about the books that first turned them into fantasy fans. And the more I listen, the more I realize that they're talking about Emma Bull.
Emma Bull is not a prolific writer. Her first novel War for the Oaks made a huge splash in 1987; it was followed by Falcon (1989), Bone Dance (1991), Finder (1994), The Princess and the Lord of Night (1994), Freedom and Necessity (1997, co-written with Steven Brust) and Territory (2007). I finally decided it was time to find out how someone can win over an entire generation with half a dozen fantasy novels, and figured I'd start with Bone Dance.
Sparrow's my name. Trader. Deal-maker. Hustler, some call me. I work the Night Fair circuit, buying and selling pre-nuke videos from the world before. I know how to get a high price, especially on Big Bang collectibles. But the hottest ticket of all is information on the Horsemen — the mind-control weapons that tilted the balance in the war between the Americas. That's the prize I'm after.

But it seems I'm having trouble controlling my own mind. The Horsemen are coming.
Bone Dance was nominated for a ridiculous number of awards — the Hugo, Nebula, World Fantasy, Locus, and even the Philip K. Dick Award. It was originally published in paperback by Ace in May, 1991, with a typical 80s art by Jean Pierre Targete, who looked like he was trying to paint Corey Hart on the cover. It was reprinted in a handsome trade paperback edition by Tor/Orb Books on July 7, 2009, and this cover has much more of a YA feel — and a new subtitle: "Fantasy for Technophiles." Bone Dance is 317 pages, priced at $15.99 in trade paperback, or $7.99 for the digital edition. I bought a discounted trade edition at Amazon for just $6.40 — copies are still available if you act fast.