Goth Chick News: I, Frankenstein… You, Potentially Disappointed
Goth Chick News: I, Frankenstein… You, Potentially Disappointed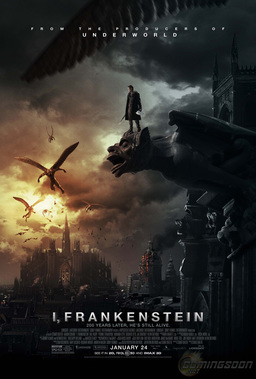 I am just not sure how to feel about this one.
On January 24, I, Frankenstein the film will finally come to life in theaters nationwide. This after the U.S. release was originally set for February 22, 2013. Then five months prior to release, in the fall of 2012, it was abruptly moved to September 13, 2013; then in April 2013, the date was moved again to January 24, 2014.
In February 2013, Lions Gate said they would release the film in 3D and then in September 2013, they came back to tell us the film would be digitally re-mastered and released in the IMAX format – in 3D.
I, Frankenstein's release strategy has been retooled more than the old guy himself.
There are a lot of reasons for a studio to postpone a movie release: like problems with the script/ talent/ director, the test audiences didn't react well and new footage needs to be shot, the studio doesn't want the release to be diluted by a competitive release in a similar genre…
Or the film just isn't good and the studio needs time to add some additional razzle-dazzle — like 3D and IMAX.
As a fan of the graphic novel and after seeing the movie trailer, I tend to believe this case might be a combination of all of the above.
The I, Frankenstein source material, a graphic novel written by Kevin Grevioux and published by Darkstorm Studios, brings together various classic monsters, including Frankenstein's creature, the Invisible Man, Dracula, and the Hunchback of Notre Dame, in a contemporary film noir setting. The creature, for example, has evolved, learned how to control his anger and now acts as a private investigator. Dracula, meanwhile, is a kingpin of crime, and the Invisible Man is a secret operative.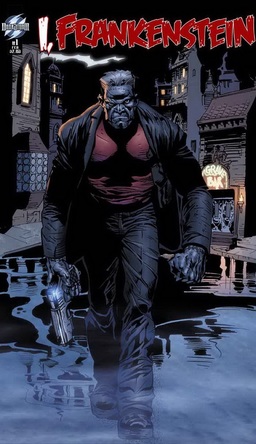 Grevioux, writer for and actor in Underworld, sold the original screenplay based on his graphic novel, to Lakeshore Entertainment in 2010. Lakeshore, an independent Los Angeles production company which also produced the Underworld films, promptly brought in Stuart Beattie (Pirates of the Caribbean: The Curse of the Black Pearl and 30 Days of Night) to re-write and ultimately direct.
In October 2011, Aaron Eckhart signed on to play the lead character "Adam" and in an interview that accompanied the announcement said:
Frankenstein is an intelligent, evolved man, and that's how he is portrayed in this movie, for sure.
Not to put too fine a point on it, but Eckhart does know he's not playing Doctor Frankenstein, right…?
Then again, it is his abs we're apparently supposed to care about, not his literary knowledge.
Shortly thereafter, Yvonne Strahovski (Dexter) was cast as the female lead "Terra," a scientist working to reanimate the dead, while Miranda Otto (The Lord of the Rings) was cast as the queen of the gargoyles. Bill Nighy (bet you didn't see that coming) plays the film's villain, whom he described as a "Nasty piece of work; one of the angels descended with Satan."
At this point, it's fairly clear the rewrite Beattie was brought on to do was far more than a bit of tweaking to make filming easier.
I was never expecting an Academy Award winner here, but I did have hopes that a film version of the graphic novel would bring something fresh to the screen. I mean, Frankenstein's monster as a private investigator and Dracula as a crime kingpin? There certainly seemed to be a huge amount of material to work with.
But the results, reworked as they are, still look suspiciously like, oh I don't know… Underworld?
Have a look at the trailer below. Action-packed CGI romp or repackaged snooze fest? You be the judge, then post a comment or drop a line to sue@blackgate.com.