New Treasures: Spectrum 20, edited by Cathy Fenner and Arnie Fenner
New Treasures: Spectrum 20, edited by Cathy Fenner and Arnie Fenner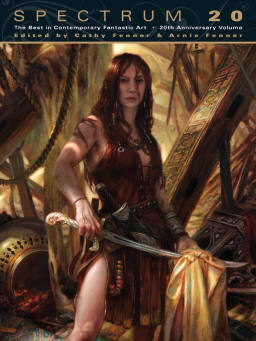 Christmas is pretty hectic at our house, and has been for about 18 years. Ever since we started sharing it with children.
Our kids try to sit still and open their presents. They do. But after they've torn open a few, they can't sit around in a calm circle in the living room any longer. Nope, nope. They tear off to shoot each other with their new Nerf guns or play Arkham Origins on the Xbox or read Atomic Robo or otherwise enjoy their gifts. Leaving my wife and I to sit and stare at each other, in the middle of a big pile of wrapping paper.
Which is a long-winded explanation for why it takes anywhere from a week to ten days to open gifts in the O'Neill-Dechene household. Which is why I didn't get around to opening Alice's gift, a copy of the hardcover edition of Spectrum 20, until last night.
If the cover (at left) looks familiar to Black Gate readers, it should. The piece, "The Lover's Quarrel," by Donato Giancola, is another view of the warrior woman featured on the cover of Black Gate 15. She's even wearing the same outfit and belt, and has the same hair beads. Her sword is no longer broken, but I think we can be reasonably confident that she has just wrapped up business satisfactorily.
Alice gave me a copy of the first volume of Spectrum in 1994 and I've gotten one every Christmas, on and off, for the past twenty years. Every holiday season, I spend a leisurely hour or two in my big green chair, enjoying the best science fiction and fantasy art of the year.
The Spectrum Annual, as it's known, is a showcase for the Spectrum Awards, which celebrate the best fantastic art from around the globe. Every year, a five-member jury team selects the winners of the Gold and Silver awards and the artwork that will be included in the next volume. The Spectrum Awards are perhaps the most prestigious artistic accolade our industry has to offer and the annual volume is without doubt the best annual collection of genre art on the market.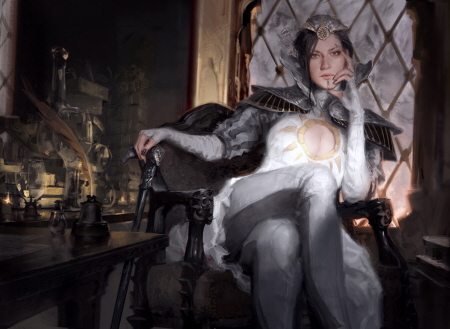 [Click on any of the images in this post for larger versions.]
Spectrum 20 maintains the high standards of previous volumes, with a diverse, unpredictable, and delightful full-color portfolio of work from over 300 artists. As usual, there are lots of familiar names and a great many new artists I'll be on the lookout for.
It's tough to talk meaningfully about art without actually including some art, so I'll sneak in a few samples for you here.
As you'd expect from a collection of fantasy and SF art, there are plenty of giants, dragons, knights, and superheroes. I'm a big fan of all of those things, but my favorite pieces in this volume were generally a little more original.
Starting with Karla Ortiz's wonderfully titled "Teysa, Envoy of Ghosts" (at right), created for Wizards of the Coast. I have no idea if this was done for a Magic card, the cover of a D&D novel, or something else entirely. I'm sure a Google search would tell me, but for now I prefer the mystery.
Just which ghosts is she an envoy for, I wonder? Teysa has a fabulous sense of style, but it's her enigmatic expression (and her richly detailed surroundings) that really tickle my imagination. Look closely and you'll see a ghostly figure just to the left of her head.
Karla Ortiz also executed one of my favorite covers of the year, for the Science Fiction Book Club's omnibus edition of Philippa Ballantine's The Order of Deacons. Check out her website, packed with all kinds of great art, here.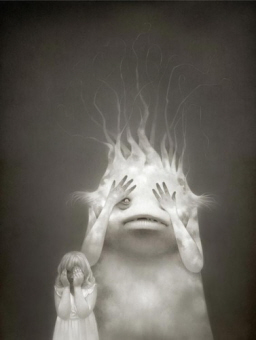 One of the practical reasons for looking through previous Spectrum volumes was, of course, hunting for cover artists for the print version of Black Gate.
Sadly, I'm no longer in the market, but I still find myself playing the mental game of evaluating pieces for their cover suitability. Call it habit.
The trick with covers, of course, is that they have many requirements. First and foremost, they have to be a terrific piece of artwork which draws the eye immediately — and preferably, one that tells a story.
They also have to effectively communicate exactly what your magazine is all about. I love the gorgeous space–scapes of Paul Lehr, for example, but wouldn't put them on a heroic fantasy magazine.
Finally, they need to be fresh and new. Putting something familiar on your cover is a great choice for a hardcover retrospective or limited edition collection, but a magazine has a cover date and readers lose interest pretty darn quick if they think they're getting out-of-date goods.
"Teysa, Envoy of Ghosts" would have made make a fabulous Black Gate cover. Except it runs afoul of another requirement: it's totally the wrong size.
Our cover designer, John Woolley, has accomplished some true miracles stretching and seamlessly tweaking art to fit our covers over the years (just compare the Donato Giancola cover art for Black Gate 15 with John's slightly taller and wider version.) But even he couldn't have converted Teysa into a workable cover (unless we laid it sideways, maybe.)
On the other hand, Travis A. Louie's creepy and genuinely funny piece "Julia and Her Swamp Friend" (above left) would have made a terrific Black Gate cover.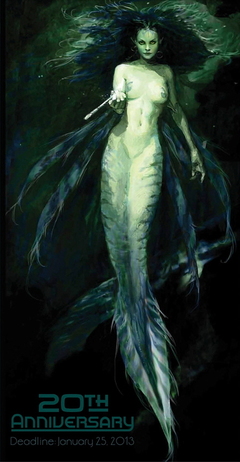 It's not very colorful, true. There are some who will tell you that color is everything for an SF cover, and I don't necessarily disagree — look at the success Frank R. Paul had with Amazing Stories, just by sticking to bright primary colors.
But it hits every one of my criteria — it's a wonderful piece of art that draws the eye, it's totally memorable, and it certainly suits Black Gate's fantasy aesthetic.
It definitely tells a story, too. And just look at all that room at the top for our logo!
Plus, it has a monster. Monsters sell magazines and they're cool. What's not to love?
Travis's website is here.
You know what else sells magazines? Mermaids. Personally, I think it's because magazines can get away with putting an essentially nude woman on the cover by giving her a flipper instead of feet, but what do I know?
I like Iain McCaig's mermaid poster for Spectrum 20 (at right), created as part of the call for entries. Even though it wouldn't really do as a Black Gate cover — it hints too strongly at adult content, which isn't really what we're about. Plus, we'd have to put the logo at the bottom again.
Ian's website is here.
I'm well aware that most readers probably don't flip through their copy of Spectrum every year and pretend they're buying cover art. (Uh, you don't, right?) But nonetheless, I think you'll find this year's volume very rewarding.
And for artists out there, Spectrum 21 is now open to submissions. The deadline is January 25, 2014, and the Call for Entries page is here.
Spectrum 20: The Best in Contemporary Fantastic Art was edited by Cathy Fenner and Arnie Fenner, published by Underwood books on November 19, 2013. It is 304 pages, priced at $45 in hardcover and $35 in paperback. There is no digital edition. It gets my highest recommendation.
See all of our recent New Treasures here.