September Short Story Roundup
September Short Story Roundup
Each month, there is enough new fantasy short fiction published to fill a small anthology and it's right out there on the Internet, just waiting to be read for free. For the past year and a half, I've been turning to the pages of Heroic Fantasy Quarterly, Beneath Ceaseless Skies, and Swords and Sorcery Magazine for a steady dose of new stories. I'm always on the lookout for new sources so if you have any suggestions please, let me know.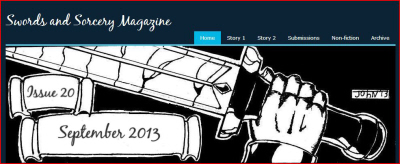 I don't know anything about Curtis Ellett, editor of Swords and Sorcery Magazine, but for nearly two years now he's been publishing two stories every month. His is a bare-bones e-zine that pays very little, yet has manages to publish fun and worthwhile stories. This month, both stories are good, though only one can be called heroic fantasy.
September's issue opens with "Carnival Man" written by Alexandra Seidel. Every generation or so, the Carnival Man appears in a random city and calls all, humans and undead alike, to participate in his great revel. Some, like the wandering bard Lykaris, are chosen to serve as members of his personal entourage. With little plot, it reads more like notes from a dream than a story. A good dream, yet a little vague for my taste.
Jeffery A. Sergent's "The Young God's Tears" is more in keeping with the magazine's title than Seidel's story. Jade, a young thief and mixed-race daughter of "a robust crusader from the Northern Realms" and a "tiny, porcelain princess from the Eastern Empire," takes a bet to see if a fabled set of gems really exists. The wager leads her to infiltrate a temple and complications ensue. It's middling S&S, straight up no chaser. It's got a nice bit of world-building and some solid action. Nothing extraordinary, but a fun way to spend fifteen minutes.
Beneath Ceaseless Skies publishes every two weeks. They're not tethered to heroic fantasy and for the past few months they had been letting me down by publishing lots of sci-fi and modern fantastic stories. Not that there's anything wrong with that, but when you're looking for an S&S fix, it does not satisfy. This month, BCS is back on track as far as I'm concerned.
The first BCS issue from September, #129, opens with the excellent and funny "On the Weaponization of Flora and Fauna" by Alec Austin and Marissa Lingen. I've read and enjoyed individual stories by both authors (check out BCS #117) and I like what they've written together even more.
"Weaponization" is set in the colonial territory of an overseas empire. Narrated by the avian specialist, the Lady Calixta, in a wry, sharp voice, the story is about a journey into the wilderness in search of specimens of a fire-breathing bird. The plot twists and turns as the expedition makes its way through a countryside that fails to match the maps. Lakes appear where there should be none; soldiers with unknown livery threaten them; finally, an unexpected villain with wild schemes of conquest emerges from the shadows.
With its cast of off-kilter academics, clever lackeys, and strange flora and fauna, Austin and Lingen's story brings to mind Jack Vance — which anyone should consider a very good thing. Furthering the story's Vancian feel is its dry humor. Captured, Lady Calixta describes her prison chamber:
His soldiers escorted us into a chamber with no windows, no convenient heavy ornaments for bashing the guards, no draperies or cords for catching them up — in fact, it was as though he had read all the same adventures as I had in my youth and was determined not to be caught out by them.
It's good stuff that ends with the possibility for more adventures of the Lady Calixta. I'm hoping Austin and Lingen write them.
Even better is "The Goblin King's Concubine" by Raphael Ordoñez. The adventurer Maugreth has taken his ship and crew deep into the heart of the goblin lands of Ir to recover the lost daughter of the noble house of Adulid.
The story begins with a goblin ambush that leaves most of Maugreth's mutinous crew dead or dying. During the attack, he frees himself from the brig. Upon driving off the goblins, he resumes control of his ship and his expedition into Ordoñez's compelling world:
The only animals that ventured into the open were the white wingless cockroaches that crept over the fungous fruiting-bodies and the great gray tarantulas that fed upon them. The moist darkness was thick with the odor of old rot, like nauseous breath.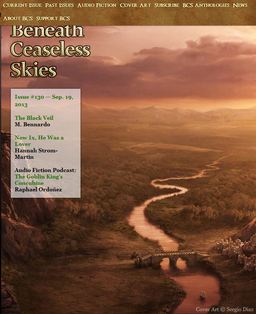 There are unexpected character and plot developments in "The Goblin King's Concubine" that I loved. I'm also a sucker for dank, jungle landscapes.
Reading "Concubine," I imagined it to be part of a bigger story with a complex history and mythology. Part of this was because its conclusion is really only a beginning. So it was pretty cool when I read Ordoñez's blog and he wrote that this is part of larger story cycle. I look forward to seeing where he's going.
BCS #130 has one story that might not be fantasy at all, which I liked. The second, while fantastic, didn't quite work for me. There is also a fun audiopodcast of "The Goblin King's Concubine." So, here goes.
The first story, "The Black Veil" by M. Bennardo, is clearly inspired by Nathaniel Hawthorne's "The Minister's Black Veil." Constant Sterry is a Salem judge notorious for his zealotry during the witch trials. He condemned five witches to death and believes five devils have been sent to torment him mind, body, and soul. Only in Heaven will he be free from their attentions. Dying from some Hell-sent internal sickness, he seeks out the Black Veil, whom he believes to be holy and able to provide him solace and comfort in his remaining days on Earth.
There are two elements that make "The Black Veil" plausibly fantastic — cloven-hoofprints and Sterry's affliction — but both can be explained away. Their relevance is in portraying the judge's mental state. Whatever the reality, he believes them to be unnatural. The crux of the story is Sterry's doubt about his actions and ultimately his faith in God. While the Black Veil can provide physical comfort, the real answers Sterry seeks lie elsewhere.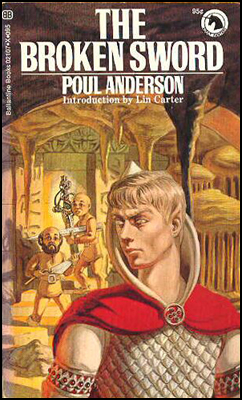 "Now Ix, He Was a Lover" by Hannah Strom-Martin, is set in a faux-medieval Islamic setting where elves are enslaved. Ela and her merchant husband, Feride, live in a city at war with elven rebels. Chaos within and without the city is increasing. Each time Feride returns from a business journey, he seems more violent and possessive of Ela.
At her friend Yonca's suggestion, Ela goes with her to a elven massage parlor. There she meets the silent elf, Poet. In his strong hands and in his silence, she sees a sort of freedom from the discomfort she feels at home and with Feride. Later, this feeling heads in a stronger direction and leads to deception and destruction. In the end, Feride pays an unexpected price.
I'm sick of elves. Even if they're gritty or sexy, they're still elves. Unless I'm reading high fantasy or something based in mythology, like Poul Anderson's The Broken Sword, when they show up, I feel like I'm reading someone's gaming session, set in the Dark Sun world in this case. The word "elf" brings certain baggage with it, so call them something else or invent a new race altogether.
That gripe aside, "Ix" has its moments. Most come from the religious cosmology presented by Strom-Martin. And a non-European setting is always welcome. Still, it's the month's story I like the least.
So that's September's crop of short stories. Next month should be interesting. The autumn issue of Heroic Fiction Quarterly's due and BCS #131 is going to be double-sized. It's in celebration of their fifth anniversary, which is awesome.
Plus, Swords and Sorcery Magazine (and whatever publications anyone else can recommend). October should be a fun, if busy, month of reading.
---
You can find Fletcher's November Short Story round-up here, his October summary here, and his annual summer round-up of The Best New Sword & Sorcery of the Last Twelve Months here.