New Treasures: The Blue Blazes by Chuck Wendig
New Treasures: The Blue Blazes by Chuck Wendig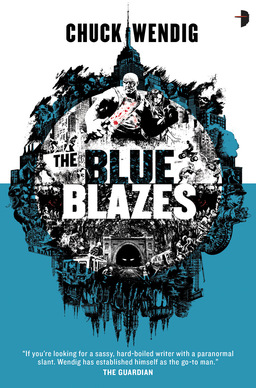 And so we continue our celebration of the latest crop of fabulous new paperbacks from Angry Robot.
Angry Robot is rapidly becoming one of my favorite publishers. Sure, we highlight a lot of great independent publishers here — folks like Haffner Press, Night Shade, Prime Books, Paizo, Pyr, Orbit, Titan, Solaris, and many others — but most of them concentrate on hardcovers and trade paperbacks, where profit margins are much higher. The low-margin mass market paperback is a much riskier proposition these days, especially when you're taking a risk on new writers without an established audience.
But we still love paperbacks here at Black Gate. We love the way they're packaged, and even the way they smell. And we especially love publishers willing to take chances on new writers. And those paperback publishers willing to take chances on gonzo, edgy, hugely original ideas from daring new writers… we just want to take them home and snuggle them. And make them a warm batch of chocolate chip cookies.
The Blue Blazes is the third Chuck Wendig novel from Angry Robot. They've also published Blackbirds and Mockingbird, as well as the upcoming The Cormorant. But it was The Blue Blazes that really grabbed my attention last time I was at Barnes & Noble. Sure, the marketing text on the back was intriguing:
Meet Mookie Pearl. Criminal underworld? He runs in it. Supernatural underworld? He hunts in it. Nothing stops Mookie when he's on the job. But when his daughter takes up arms and opposes him, something's gotta give…
But it was the blurb from Empire State author Adam Christopher that really sealed the deal:
The Blue Blazes is exactly my kind of supernatural mob crime novel: dark and visceral, with an everyman hero to root for and Lovecraftian god-horror to keep you awake at night… this is the good stuff, right here.
This quote from Fantasy Faction didn't hurt either.
The Blue Blazes is a fun, fast-paced novel that blends the best of noir, a Dungeons & Dragons Monster Manual, and melodrama into something special.
That's the first time I've ever seen the Monster Manual in a blurb for a novel. Note to struggling copywriters: it really worked.
Chuck Wendig has a fine pedigree in the gaming industry, with a variety of White Wolf writing credits under his belt (including supplements for Vampire the Masquerade, Changeling, and other Worlds of Darkness titles). He's also the author of Double Dead and Gods and Monsters: Unclean Spirits.
The Blue Blazes was published on May 28 by Angry Robot. It is 400 pages, priced at $6.99 for the digital edition and $7.99 in glorious, sweet-smelling paperback. James McGlothlin's complete review is here.
It's worth checking out the other Angry Robot paperbacks we've examined recently — they include the supernatural western She Returns From War by Lee Collins, epic fantasy The Crown of the Blood by Gav Thorpe, gonzo SF/secret agent mash-up The Lives of Tao by Wesley Chu, the steampunk opus The Bookman Histories by Lavie Tidhar, the underworld comedy The Corpse-Rat King by Lee Battersby, Chris F. Holm's noir crime novel Dead Harvest, Aliette de Bodard's Aztec mystery Obsidian & Blood, and Tim Waggoner's undead detective opus The Nekropolis Archives,
See all of our recent New Treasures here.