New Treasures: Dead Harvest by Chris F. Holm
New Treasures: Dead Harvest by Chris F. Holm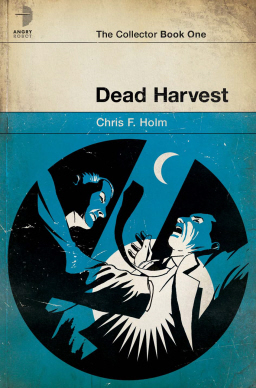 Holy cats, it's 2013 already. Happy New Year, all you Black Gate peeps.
And where did 2012 go? There's 1,021 unanswered e-mail messages in my in-box, I'm late editing this week's BG Online Fiction entry, and I'm not even sure how many unread review copies are stacked up by my big green chair. 2013 ain't even 20 hours old, and I'm weeks behind already.
Ah, the heck with it. I have to keep up on the latest top-notch fiction, don't I? Yes, I do. So tonight I'm curling up in my big green chair and starting 2013 off right: by reading Chris F. Holm's first novel, an intriguing mix of dark fantasy and noir-dark crime: Dead Harvest.
Meet Sam Thornton, Collector of Souls.

Sam's job is to collect the souls of the damned, and ensure their souls are dispatched to the appropriate destination.

But when he's dispatched to collect the soul of a young woman he believes to be innocent of the horrific crime that's doomed her to Hell, he says something no Collector has ever said before.

"No."
The second book, The Wrong Goodbye, hit shelves in September. If we're lucky, they could both eventually be re-released in a handsome and affordable 3-novel omnibus like Aliette de Bodard's Obsidian & Blood. But damn, I can't wait that long.
Dead Harvest was published February 2012 by Angry Robot. It is 381 pages in paperback, priced at $7.99 ($5.99 for the digital edition).
See all of our recent New Treasures here.