Amazing Stories, January 1962: A Retro-Review
Amazing Stories, January 1962: A Retro-Review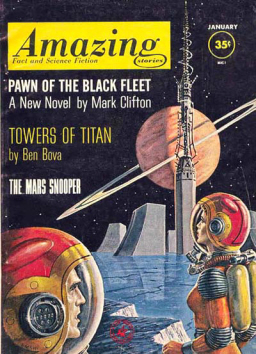 This seems to me a fairly significant issue of Amazing, in its way, though  it doesn't feature any of the really significant Goldsmith discoveries (no Zelazny, no Le Guin, no Bunch); nor are any of the stories lasting classics. But all of the writers are reasonably well-known, and it does feature one somewhat important sort-of-debut, as well as a near farewell.
The cover is by Ed Emshwiller, illustrating Ben Bova's "The Towers of Titan." (His wife Carol appears in form-fitting spacesuit.) There is a back cover illustration too, in black-and-white, by Virgil Finlay, for the serial, Mark Clifton's "Pawn of the Black Fleet." Interiors are by Finlay, Emshwiller, Adkins, Summers, and Kilpatrick.
The letter column, "… Or So You Say," has letters from Ken Winkes, H. James Hotaling, and Bob Adolfsen, none of the names familiar to me, discussing among other things the question of whether serials are a good idea.
The book review column, The Spectroscope, by S. E. Cotts, reviews Daniel F. Galouye's Dark Universe (very favorably – and indeed the novel became a Hugo nominee), Lester Del Rey's Winston juvenile Moon of Mutiny (very unfavorably), Arthur C. Clarke's non-fiction collection The Challenge of the Spaceship, John C. Lilly's Man and Dolphins, an account of the author's research on dolphins and in particular their intelligence and capacity for language (Cotts reveals himself as rather a skeptic in this area); and also a curious review of an Ace Double, Kenneth Bulmer's No Man's World backed with Poul Anderson's Mayday Orbit.
Cotts modestly praises No Man's World as "plain uncomplicated entertainment" – no real argument there from me – but he dismisses Mayday Orbit as a "minor trifle" – in itself not an absurd judgment, but if it is a minor trifle then so too surely is No Man's World!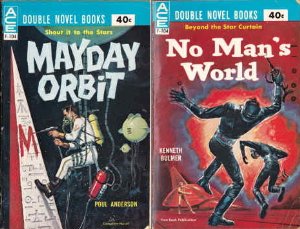 Odder still is that Mayday Orbit (as "A Message in Secret") appeared in Amazing's sister magazine, Fantastic, though to be sure this suggests that Cotts was given the independence to speak his or her own mind about the books reviewed.
The unsigned editorial is about "alien criminology" and is mostly given over to a transcript (probably shortened) of a speech on the subject by Miriam Allen deFord, who was already known for SF crime stories and who in fact had one in this issue of Amazing. There is also a science article, "The Mars Snooper", by Frank Tinsley, advocating exploration of Mars (or at least its moons) by 1971.
The stories, then:
Serial:
"Pawn of the Black Fleet, part 1 of 2" by Mark Clifton (28,400 words)
Novelet:
"The Towers of Titan" by Ben Bova (10,200 words)
Short Stories:
"The Insane Ones" by J. G. Ballard (4100 words)
"The Akkra Case" by Miriam Allen deFord (4000 words)
"Inconstancy" by Roger Dee (2100 words)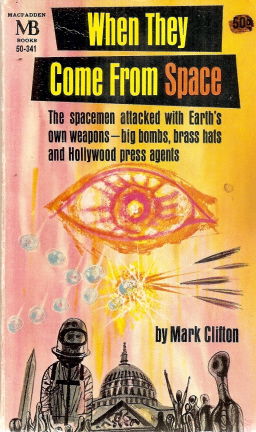 "Pawn of the Black Fleet" is nearly Mark Clifton's final publication (one more short story, "Hang Head, Vandal!", appeared in Amazing in March 1962, and he died in 1963).
Clifton was for a time one of the field's most celebrated writers – his novel (with Frank Riley), "They'd Rather Be Right" (published in paperback as The Forever Machine) somewhat notoriously won the second Hugo for Best Novel; and several  of his other stories were picked for Year's Best anthologies.
But he really didn't publish a whole lot – roughly 20 short stories and 3 novels, and his career was very short, partly because he started late and died young, but he seemed to have lost steam by the 1960s.
For more on him, I'll point to a first rate edition of Clifton's short fiction, The Science Fiction of Mark Clifton, from Southern Illinois University Press in 1980, edited by Barry N. Malzberg and Martin H. Greenberg.
For me, Clifton's work has always had a certain desperate, authentic energy, but is somewhat weakened by the absurd (to me) science, the adherence (at least in the Ralph Kennedy stories) to Campbellian hobbyhorses, and by no better than adequate prose and plots.
"Pawn of the Black Fleet" appeared almost simultaneously with a book version, When They Come From Space. I read the book years ago, and I confess I don't remember it well.
It's a Ralph Kennedy story – thus part of a series he wrote that was originally about a company personnel director (similar to Clifton's own job) who encounters psi phenomena – in this book, he's appointed to deal with the psychology of invading aliens. These stories are lighter in tone than most of Clifton's work.
Ben Bova's "The Towers of Titan" turns out to be only his second published short story. (The first sale was also to Cele Goldsmith — "A Long Way Back," Amazing, February 1960). He did publish a Winston Juvenile, The Star Conquerors, in 1959.
"The Towers of Titan" is a minor piece (and does not seem to have been reprinted except in one of the Sol Cohen super cheap reprint 'zines.) Dr. Sidney Lee is a respected scientist who had a breakdown when confronted by the mystery of the mysterious towers on Titan – alien machinery that has been operating for a million years.
At last, he returns, kindling a relationship with a lovely woman scientist (who looks a bit like Carol Emshwiller according to the illustrations), and taking over leadership of the ongoing investigation, all the while convinced that the machines are the product of malevolent aliens. It ends with a sudden revelation about the machines' purpose (that revelation in itself not too bad an idea).
The most important story in the issue, historically, is Ballard's "The Insane Ones." This was Ballard's first appearance in an American magazine. (He had shown up in an anthology or two, and the February F&SF showed up on newsstands only 4 days later with his "The Garden of Time." And his first novel, The Wind From Nowhere, was also published in the US early in 1962.)
That said, it's fairly minor work for him, though I thought the quality of writing immediately evident. It's set in a Galaxy-ish future in which psychological treatment has been made illegal, apparently mostly under the influence of a right-wingish American politician.
The protagonist is Dr. Gregory, a psychiatrist who is just out of prison for treating a girl who committed suicide (and who turned out to have been the evil politician's daughter). He meets a troubled young woman, refuses to treat her, with easy to predict results, then encounters a young man who claims he is insane enough to want to kill the politician.
Will Dr. Gregory treat him, or let him loose to attempt assassination? The ending is appropriately ironic. It seemed a bit too pat and programmed a story to me, without the almost mythic power of stories like "The Terminal Beach" or "The Voices of Time."  I should note that it was picked up by Judith Merril for her Year's Best anthology.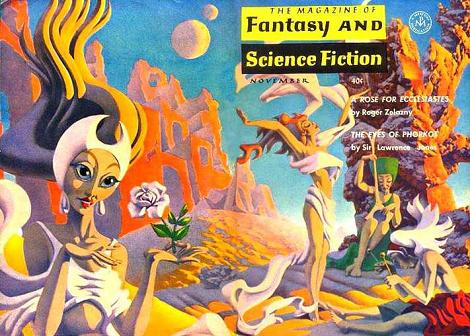 DeFord's "The Akkra Case" is a crime story, natch (after her introduction). It's set in a future in which murder is almost unknown. A young woman is found killed in one of the rare park areas in the city. The story is told from the point of view of the investigator who rather clumsily tries to solve the case.
The real point is to illustrate the somewhat oppressive nature of this society, particularly its horror of any contact with nature – the victim and her father, it turns out, were secretly "Naturists," who liked things like natural food and clothing and human-made (instead of robot-made) art and music.
Finally, Roger Dee's "Inconstancy" is a somewhat silly short piece about the first Martian Ambassador to Earth, who misses his fiancée terribly until he meets the Earthwoman assigned to escort him. Turns out he was raised on Mars with the idea that he would be more Earthman-like, and always felt a misfit on Mars – but how can he leave his fiancée in the lurch? Well, there's an easy answer to that… Silly, but OK for a back of the book trifle.
And in a way, a nice bit of scene-setting for a sharp reaction to its sort of story by one of Goldsmith's greatest discoveries, Roger Zelazny, with, of course, "A Rose for Ecclesiastes" a year or two later (in F&SF, though, not Amazing or Fantastic.)
See more of Rich Horton's Retro-Reviews in our Vintage Treasures section.