Goth Chick News: Conjuring a Good Old-Fashioned Scare
Goth Chick News: Conjuring a Good Old-Fashioned Scare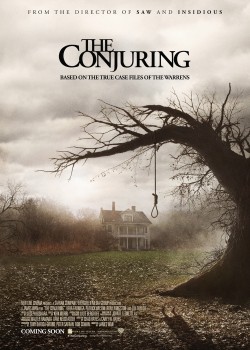 Admittedly, I'm a complete sucker for ghost hunting shows.
Yes, they can be painfully cheesy; from Grant Wilson's (Ghost Hunters – SciFi Channel) earnest takes to the camera while expounding on how blessed he is to be able to help tormented souls, to Zak Bagans's (Ghost Adventures – Travel Channel) shameless dramatics, I love every one of them.
But here's a question for those who've tuned in: did you ever wonder what would happen if just once something truly horrifying actually reached out and touched one of them?
It's an amusing thought – there's Zak asking the "ghost" if it would give a sign it can hear him and suddenly a full bodied apparition shows up, pokes him in the nose, and says, "Yeah, I'm standing right here you tool."
And the next thing you know, Zak and the whole GA crew are "retired."
Well apparently I'm not the only one who imagined something similar – only they've taken it several steps (miles?) further.
Director James Wan already has some pretty substantial horror "street-cred" as the mind behind Saw, Dead Silence and Insidious.  And as these films represent a more in-your-face kind of scare than generally appeals to me, I am really anticipating his latest outing.
In theaters July 19th, The Conjuring is summed up this way by distributor New Line Cinema:
Before there was Amityville, there was Harrisville. Based on a true story, The Conjuring tells the horrifying tale of how world-renowned paranormal investigators Ed and Lorraine Warren were called upon to help a family terrorized by a dark presence in a secluded farmhouse. Forced to confront a powerful demonic entity, the Warrens find themselves caught in the most terrifying case of their lives.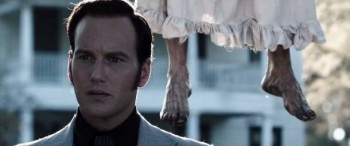 A little digging uncovered some interesting tidbits about the "true story" part.
Andrea Perron (played by Hayley McFarland in the film) is the eldest daughter in the family portrayed in The Conjuring.  She is the author of a book called House of Darkness, House of Light released last March and which documents what was, and still is, considered one of the most significant hauntings in history by world-renowned paranormal investigators Ed and Lorraine Warren.
According to Perron, the home on 200 acres in Harrisville, R.I., was one of the original plantations in the area surveyed by colonist John Smith in 1680. A small home was built on the property in a style she referred to as a "salt box" with several later additions built around the original structure until it became the grand home the Perron family purchased in 1970.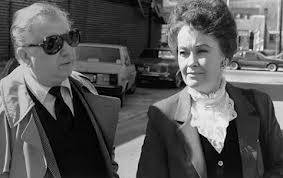 "My mom just wanted to get a place in the country to raise her kids," Perron said. "It is an extraordinary place and we started seeing spirits as soon as we moved into the house. Most of them were completely benign and some of them didn't even seem to notice that we were there, but eight generations lived and died in that house prior to our arrival and some of them never left."
One of the spirits who was far from benign was named Bathsheba Sherman, whom the family describes as a "Godforsaken soul." Bathsheba terrorized Perron's mother while coveting Perron's four sisters and her father because she perceived herself to be mistress of the house and didn't appreciate the competition Perron's mother represented.
"What she put my mother through, no human being should have to endure," Perron said. "She appeared to several of us, but I never saw her. I saw many of the spirits, but I never saw her except in kind of a telepathic dream state. When she would appear to my mother, I would dream at the same time that she was appearing to my mother and tormenting her."
Intriguing, right?  At least as much as Zak Bagans screaming "WHAT WAS THAT???" into the camera lens.
But back to the "old fashioned scare" part of the film version…
It was recently revealed that the filmmakers were aiming for a PG-13 but couldn't get it because of the intensity of the scares.  Not the gore, just the creepiness.  So the film will retain its current R-rating.
That's a pretty big artistic leap for the man who brought us Saw, but I can't wait.
Don't believe that the creep-factor can make a movie "restricted?"
Have a look for yourself.  And for the record – I've just donated my armoire to Goodwill.
The Conjuring stars Bates Motel's Vera Farmiga, Patrick Wilson, Ron Livingston, Lili Taylor, Joey King, Shanley Caswell, Haley McFarland, Mackenzie Foy, Kyla Deaver, and Sterling Jerins.
The Conjuring opens July 19th.
Thoughts…?  Post a comment or drop a line to sue@blackgate.com.