New Treasures: The Inner City by Karen Heuler
New Treasures: The Inner City by Karen Heuler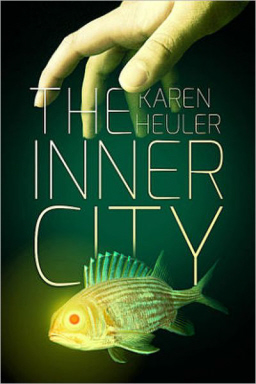 I've started ordering more from Barnes & Noble's online store. Not that I've been unhappy with Amazon, but I wanted to try out the competition, and so far I've been pleased with the service.
The first book I ordered was the seventh volume of the collected Atomic Robo, Flying She-Devils of the Pacific. At some point while browsing their online store, they recommended an odd little volume to me: Karen Heuler's The Inner City, a collection of fantasy short stories. I've never heard of Karen Heuler. But I'm very familiar with ChiZine, the eclectic Canadian publisher, and raved at length about their marvelous back catalog a while back. So I took a chance and ordered The Inner City — what the heck, it was the perfect price to get my order up to $25, and get free shipping.
What are you hiding down deep in your inner city?

Anything is possible: people breed dogs with humans to create a servant class; beneath one great city lies another city, running it surreptitiously; an employee finds that her hair has been stolen by someone intent on getting her job; strange fish fall from trees and birds talk too much; a boy tries to figure out what he can get when the Rapture leaves good stuff behind. Everything is familiar; everything is different. Behind it all, is there some strange kind of design or merely just the chance to adapt? In Heuler's stories, characters cope with the strange without thinking it's strange, sometimes invested in what's going on, sometimes trapped by it, but always finding their own way in.
Surprisingly, so far I've been more taken with The Inner City than Atomic Robo — and believe me, that doesn't happen very often. Typical of ChiZine, the book design and packing are gorgeous. There's even a 10-page catalog in the back that reminds me of the checklists in the endpapers of Ace paperbacks that fascinated me as a young teen. The stories in this collection were originally published in places like Weird Tales, Cemetery Dance, Albedo One, Moon Milk Review, and other excellent publications — a good sign.
The Inner City was published February 13, 2013. It is 212 pages, priced at $16.95 ($9.99 for the digital edition). ChiZine has a generous sneak-peek here — including the complete 10-page catalog. Check it out!