Kickstarter Alert: Up Your Game with Realm Works
Kickstarter Alert: Up Your Game with Realm Works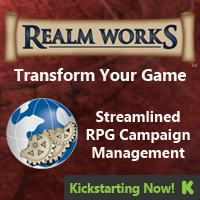 I'm in the midst of starting up a Pathfinder RPG, the first game that I've run in several years. As always, the planning and character creation is half the fun. The setting, especially as outlined in the Inner Sea World Guide, contains a lot of opportunities for diverse storylines, from traditional fantasy to sword and sorcery to pirate adventures to planetary romance.
But all of these opportunities also create difficulties. I have the backstories that my characters have come up with, the mysterious things about their past that I have come up with, the skeletons in their various family and friend's closet, plot hooks and story arcs that I've got to seed which will likely take months to bear fruit, if they ever do.
Unfortunately, I've got enough demands on my time that I know I'm not as focused as I once was, and I'm concerned about keeping it all straight. I'm starting a binder and notebook to track the events in, and have typed some up in Google Docs so that I can share the background information they know with my players. I'm thinking of keeping a blog, so that we all can reference back to figure out what events have taken place, as I anticipate this will be a fairly long-lived campaign if all goes well. There's a lot to potentially keep track of …
Which brings me to the Kickstarter for Realm Works, which has 49 hours to go as I write this. Realm Works is a RPG campaign management engine that is being designed by Lone Wolf Development, with the goal of streamlining exactly the sort of things that I'm currently in the process of meticulously tracking. I've heard good things about Lone Wolf's Hero Lab software, though I've never used it, but Realm Works looks like it'll really be useful.
Realm Works is due for release in July 2013, after three years of development and testing, but the point of the Kickstarter is to allow them to really augment the concept by adding cloud sharing into the design. Here are the key points about Realm Works which makes me so enthusiastic (watch the Kickstarter video prior to any of the video demos below):
A great database that tracks information by topic (video demo)
Auto-linking between content, with easy navigation
Game system neutral, so can be leveraged for any game
Visual mapping of the storyline, for story-driven game planning (video demo)
Record information in modular units and track which pieces of information have been revealed to which players. The players can then access only the information they have access to, via their own login to the game's cloud account. (I did confirm that players will be able to view the game's content in the cloud without buying Realm Works.)
The also means you can reveal local maps as you go (video demo)
Design your own adventures and/or draw from a pool of available content
There are a lot of other great features, including optional integration with Hero Lab and some starting supplement materials that are being included at various levels, including the recently-successful Kickstarter megadungeon project The Grand Temple of Jing. The Realm Works project already has its full funding of $100,000, and in fact is over $125,000 and has hit two stretch goals, with a third one coming up at $130,000.
If you're looking for a way to keep track of your gaming information, definitely give this Kickstarter a look … and quickly, because time is running out.
Update – 2/23: I won't be updating this regularly over the next 48 hours, but there have been two fairly major new developments since I posted last night. You can keep up on the last-minute announcements at the project's Kickstarter update page, and many projects of this scale have a lot of last minute announcements and additional rewards (since they know gamers are all about the perks). Anyway, here are the two developments since last night:
If the Kickstarter reaches 2,000 backers, every backer at Timber Wolf level or higher will get a license for Hero Lab. At this moment, the project is at 1,455 backers and 34 hours to go, so it'll be interesting to see if this can be achieved.
The $130,000 goal has been reached and a new $145,000 goal has been added: inclusion of Green Ronin Publishing's The Pirate's Guide to Freeport.
Related Articles & Links: