"Classic Sword & Fantasy": Tangent Online on Vaughn Heppner's "The Pit Slave"
"Classic Sword & Fantasy": Tangent Online on Vaughn Heppner's "The Pit Slave"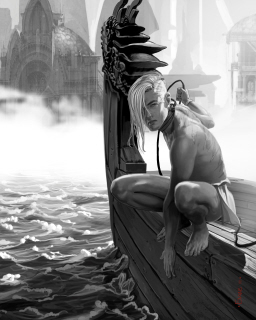 Louis West at Tangent Online reviews Vaughn Heppner's swords & sorcery short story, "The Pit Slave," published here on Sunday, February 2:
A classic sword & fantasy tale. Lod had urged the last of the human soldiers, who worship the god Elohim, to rise up and rebel against the conquering Nephilim giants since "it was better to die on your feet than live on your knees."

But all the soldiers were killed or captured. Now Lod is prisoner of the Nephilim, slated to die in the arena as a pit slave…
"The Pit Slave" is a 7,000-word short story offered at no cost. It is the sequel to "The Oracle of Gog" (from Black Gate 15), and part of Lost Civilizations, a six-book series. A slightly different version of "The Pit Slave" appears in The Lod Saga, available now at Amazon.com and Barnes & Noble.com.
Read the complete story here, and Louis's review at Tangent Online here.
The complete catalog of Black Gate Online Fiction, including stories by E.E. Knight, Jason E. Thummel, Gregory Bierly, Mark Rigney, C.S.E. Cooney, Judith Berman, Howard Andrew Jones, Dave Gross, Harry Connolly, and others, is here.