Discovering Galaxy Science Fiction
Discovering Galaxy Science Fiction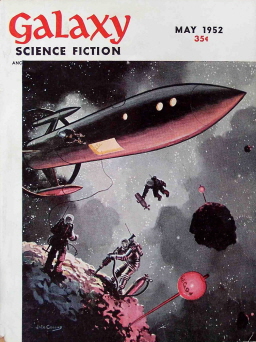 I've known about older speculative magazines for a few years – the pulp fiction magazines from decades ago. I listened to people talk about stories they read from those magazines, and it seemed like I was missing out on something.
I'm Matthew Wuertz, a fiction reader and writer. I've been a Black Gate reader since issue 7. I've met most of the Black Gate team over the years, and even took part in the 2010 Sword & Sorcery Panel Podcast with them at the World Fantasy Convention in Columbus. I also have my own blog.
My wife's van had Sirius Satellite Radio for a year, and I liked listening to the station that played old radio shows — including "X Minus One," which had episodes of science fiction. One of the episodes was "Surface Tension" by James Blish, originally published in Galaxy Science Fiction. When I heard of the episode's origin, my curiosity in pulp magazines increased. And now I had a title in mind. I recall thinking, "Would it be possible to actually get one of these Galaxy magazines in my hands?"
A short time later, John O'Neill posted the article "How Galaxy Magazine Saved Robert Silverberg from a Life of Smoking," so I asked how one might acquire an issue. One of the answers was eBay, and John posted several links to active auctions.
At this point, my wife, whose eBay prowess amazes me, became involved. In mere moments, she was saving search results and tracking a number of options. After considering several choices, I chose an auction for 22 issues of Galaxy. So we made a bid. It was a long week until the auction ended, but we won.
When the magazines finally arrived, I was so excited. These were pocketbook-sized magazines with incredible art on the covers, like astronauts mining asteroids with jackhammers while their cylindrical rocket ship floats overhead. This was on the cover of my oldest issue – May, 1952. I was holding a 60-year-old magazine in my hands! I could hardly wait to open the musty, faded pages and read stories written long before I'd been born. See the complete lot here.
What lies within those pages will be revealed another time. I need to stop here. Those astronaut miners are waiting for me.