The Sword & Sorcery Panel Podcast
The Sword & Sorcery Panel Podcast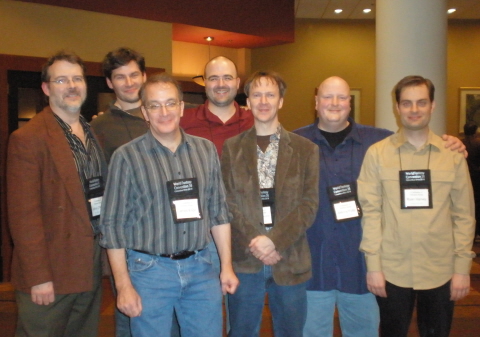 At the 2010 World Fantasy Convention in Columbus, Ohio, author and publicist Jaym Gates assembled the world's greatest literary minds together to discuss Sword & Sorcery. Meaning me, plus some other guys.
In a moment of foresight for which future generations will doubtless be profoundly gratefully, Jaym and SF Signal's Patrick Hester recorded all the brilliant insights (plus what those other guys said) on state of the art podcast equipment. SF Signal has now published the entire podcast in three parts.
Participants included moderator Jaym Gates, Howard Andrew Jones (author of The Desert of Souls), Black Gate blogger and Writers of the Future winner Ryan Harvey, BG Contributing Editor Bill Ward, World Fantasy Award nominee James Enge, Rogue Blades publisher and editor Jason M. Waltz, Tome of the Undergates author Sam Sykes, Seven Princes author and BG blogger John R. Fultz, The Sword-Edged Blonde author Alex Bledsoe, fan Matthew Wuertz, and literary genius and future leader of the free world John O'Neill.
The far-ranging panel covered the roots of sword & sorcery, the classic canon, what makes a story S&S, and much more. It runs for roughly 90 minutes, 'cause all those other guys wouldn't shut up. SF Signal has thoughtfully broken it into three podcasts, so the concentrated literary brilliance won't make your head explode.
They are here: Part I, Part II, and Part III.  Caution: professional authors on a closed course. Do not attempt conversation like this at home.