Harry Harrison, March 12, 1925 – August 15, 2012
Harry Harrison, March 12, 1925 – August 15, 2012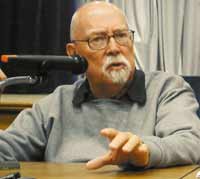 Harry Harrison, the prolific author of nearly 60 novels (including Deathworld; Bill, the Galactic Hero; The Hammer and the Cross; and eleven titles in The Stainless Steel Rat series) has died.
Harrison's first publication was the short story, "Rock Diver," in the February 1951 issue of Worlds Beyond. But he entered the field as an illustrator, working on some of the most fondly-remembered comics of the 50's, including EC Comics' science fiction titles Weird Fantasy and Weird Science. He also wrote a number of syndicated comic strips, creating Rick Random and becoming the main writer of the Flash Gordon newspaper strip in the 50s and 60s.
Harrison also made a name for himself as an important and influential editor, beginning with the September 1953 issue of Rocket Stories. He was the editor of many of the field's leading magazines, including Amazing Stories (1967 – 1968), Science Fiction Adventures (1953 – 1954), Fantastic (1968), and SF Impulse (1966 – 1967). With Brian Aldiss, he edited Nebula Awards 2, two volumes of SF Horizons, three volumes of the Decade anthology series (1940, 1950, and 1960), and nine volumes of The Year's Best Science Fiction (1967 – 1975).
But it was as an author that Harrison really made his mark. His first novel was Deathworld (1960), a book that was still in print and much discussed two decades later, when I was in high school. He wrote two more in what was eventually to become The Deathworld Trilogy. His 1966 novel Make Room! Make Room! became the basis for the famous science fiction film Soylent Green (1973), starring Charlton Heston.
Harrison had an affinity for series work, and most of his 58 novels are part of a series including the Brion Brandd novels (2 titles), Tony Hawkin (2), To the Stars (3), The Hammer and the Cross (3), Stars and Stripes (3), Eden (3), Bill, the Galactic Hero (7), and The Stainless Steel Rat (11). Much of his short fiction also followed this pattern, including the nine "Matter Transmitter" stories.
Harrison's career spanned nearly six decades. The monumental collection 50 in 50 (Tor, 2002) collects 50 stories written over 50 years. His last novel was The Stainless Steel Rat Returns, published by Tor in 2010.
According to The Official Harry Harrison Website, Harry Harrison died today at the age of 87. He was a vastly influential writer and editor during the formative years of the genre, and he will be much missed.