Galaxy Science Fiction, May 1952: A Retro-Review
Galaxy Science Fiction, May 1952: A Retro-Review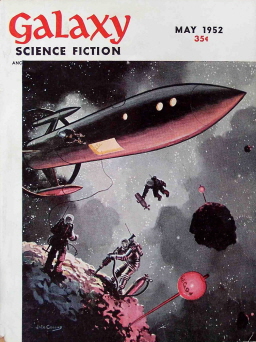 I've been blogging about my experiences collecting and reading Galaxy magazine (originally titled Galaxy Science Fiction). Within my initial collection I had the May, 1952 issue (Volume 4, Number 2 for those who want to get that detailed). The issue included a novella, two novelets, and three short stories from Boyd Ellanby, Peter Phillips, Charles De Vet, Richard Matheson, Franklin Abel, and Poul Anderson.
"Category Phoenix" by Boyd Ellanby – In a Big Brother society ruled by Leader Marley, Dr. David Wong works in Research, tasked with finding a cure for White Martian Fever. But for the past ten years, Dr. Wong has been researching immortality, something he inadvertently discovered while creating a cure for Blue Martian Fever. Dr. Wong hopes to share his findings with those closest to him without alerting Leader Marley – a challenging task, considering how closely they're monitored.
"Lost Memory" by Peter Phillips – Palil and his associates examine a new arrival from outer space. It seems like them – inorganic and metallic – yet without normal modes of communication and shaped as a cylinder. When they're finally able to communicate with it, they cannot understand all of its words, like mann, blud, and deth. Their only hope of saving the poor, blind creature is to perform an operation, but the visitor is so confused that it keeps asking for corrosive oxygen.
"Wheels Within" by Charles De Vet – Mr. Bennett suffers from headaches so severe that not even a neurologist can help. The headaches even escalate into hallucinations of a beautiful woman named Lima. One day, he discovers a show in town called "Lima, Mystic of the Mind," and he is shocked to find that the woman exactly resembles the one from his hallucinations. For a price, she offers to cure him of his headaches, though the cure will involve pain and anxiety through false experiences, leading him into a cyclical dream sequence that seems unending and hopeless.
"Lover When You're Near Me" by Richard Matheson – David Lindell arrives on Station Four, dubbed the Three-Moon Psycho Ward by the men in the trading company. David works alongside Gnees, all of them men who seem so simplistic, perhaps dumb. At night, he retires to a house where a repugnant Gnee woman cares for him; rather than speaking, she communicates telepathically. But the woman soon invades David's mind throughout the day, even from afar, and each night when he wakes, he finds a bouquet of fetid flowers at the foot of his bed. He wonders if he can keep his sanity for the duration of his six-month assignment while the Gnee woman continues to push and pry into his thoughts.
"Freudian Slip" by Franklin Abel – Herman Raye fishes for trout when suddenly, everything made of earth disappears. In its place is an unnerving nothingness. Rather than panicking, Herman continues with life, guessing that he's likely having a mental breakdown – something which he has seen in others, given his work in the field of psychoanalysis. Later, in the city's bookstore, aliens escort Herman through a vortex, taking him to an unusual being of two distinct personalities. The personalities desperately need his help with amnesia, for their memories are necessary in restoring Earth.
"Garden in the Void" by Poul Anderson – Within the asteroid belt, Hardesty and his wife, Marian, mine for profit. They discover a remarkable asteroid that appears covered by greenery, so they land upon the surface. Amazingly, the greenery is an eldritch life form, joined together like vines. But even more amazing than this garden is the story of its gardener.
I hadn't read anything by Poul Anderson before, and his story was my favorite of this issue. When I read it, I knew I had discovered a master of the field. He crafted this story with great detail and poetry. Here's an example:
It was quiet, the blank quiet of airlessness and emptiness, the only noise that of the muted scrunch of footsteps carried through the spacesuits, only that and the hot, rapid thud of heart and breath.
I didn't see any "You'll Never See it in Galaxy" advertisements this issue. Perhaps enough time had passed since their first issue that they felt established enough. Though the back copy of the magazine still carried a house ad ("Who Reads Galaxy? – Doctor, Lawyer, Indian Chief.")
This is an intriguing issue, with stories that aren't dulled by time. Forget the clichés you think you know and read something from the past. There are worlds of wonder within those old pages.