New Treasures: Kari Sperring's The Grass King's Concubine
New Treasures: Kari Sperring's The Grass King's Concubine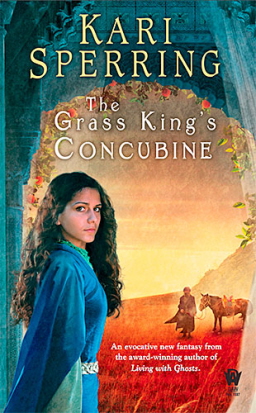 I haven't paid much attention to paperbacks in my New Treasures column. Which is odd, considering paperbacks are actually my preferred format. I think it's just force of habit — I try to talk about the arrivals that look the most interesting and important, and I think my eye just gravitates towards the hardcovers and trade paperbacks each week.
Several very intriguing paperback originals have arrived in the past few weeks and I'm going to try and rectify that mistake by highlighting them, starting with Kari Sperring's The Grass King's Concubine. Sperring made a splash with her first novel Living With Ghosts — a finalist for the Crawford Award, a Tiptree Award Honor Book, Locus Recommended First Novel, and the winner of the Sydney J. Bounds Award for Best Newcomer. With her second novel she returns to the same world with a brand new tale set several hundred years later:
It began with Marcallen, a man bringing human knoledge into WorldBelow — where no mortal had been… And though Marcellan never meant to cause harm, his theories undermined the immortal Grass King's magic, the power that gave life and plenty to all the Domains of WorldBelow. That disaster was compounded by a spell of stone and blood cast in WorldAbove by exiled shapeshifter twins, once favorites of the Grass King…

Generations later, Aude, born to wealth yet driven always by her childhood vision of a strange Shining Place, seeks to understand her family's past, where their wealth came from, and why they and all who live in the Silver City want for nothing, while the people who live in the industrial Brass City have nothing at all.

Jehan, a soldier serving in the Brass City, also questions the inequities between the wealthy and those who work for them. When the two find each other on the troubled streets, their destinies are linked. Together, they flee the cities in search of the origins of Aude's family. All they find is a devastated land, and when Aude is snatched away to WorldBelow by the Grass King's last remaining supporters, the Cadre, Jehan has no choice but to follow, aided and impeded by the twins. While Jehan travels through hostile lands and battles terrifying guardians, Aude must survive as a prisoner of the Cadre, who believe that she is the solution to restoring WorldBelow — even at the cost of her own life…
The Grass King's Concubine was released by DAW Books on August 7. It is 481 pages, priced at $7.99 for both the print and digital editions.
Read all of our recent New Treasures articles here.