KenzerCo Announces HackMaster Basic is now Free
KenzerCo Announces HackMaster Basic is now Free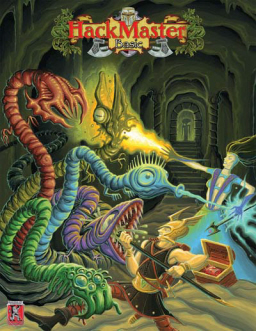 Free stuff!
When I was working at Motorola in the late 90s, the lawyer whose office was just down the hall had his own game company. His name was David Kenzer, and his company was Kenzer & Company. Tuns out they published one of my favorite comics, Jolly Blackburn's hilarious Knights of the Dinner Table. Once I made this discovery, Dave and I collaborated on a bunch of projects, one of which became Black Gate magazine.
One of the most successful products Dave and his team of geniuses ever produced was the HackMaster role playing game. Conceived as a clever parody of Dungeons & Dragons — and a fully functional RPG — it was published under a license from Wizards of the Coast and won the coveted Origins Award for Game of the Year 2001. It was a huge labor of love for all involved, and I was drafted to write the "HackMaster Smartass Smackdown Table" (HSST), a simple tool to help Game Masters discipline unruly players.
For the last ten years, HackMaster has been expanded with over fifty supplements — including the brilliant Annihilate the Giants (a parody of Gary Gygax's classic adventure module Against the Giants), Little Keep on the Borderlands, and my favorite, the out-of-print The Temple of Existential Evil (new copies of which currently sell on Amazon for north of $500). HackMaster Basic, a 192-page single volume collection of the essential rules, was published in 2009 and helped introduce a whole new audience to the game.
I left Motorola in 2006, but kept in close touch with Dave. For the past few years, KenzerCo has been working in secret on a complete revamp of HackMaster, and the results have been at last unveiled with HackMaster Fifth Edition. The Hacklopedia of Beasts, a 384-page full color deluxe hardcover and one of the most visually gorgeous game books I've seen, arrived first. And now KenzerCo has announced The HackMaster Player's Handbook, a 400-page leathered book that includes everything you need to play.
To celebrate the arrival of Fifth Edition, KenzerCo has announced that they're making the PDF version of HackMaster Basic completely free. This book serves as a gateway to the dynamic thrill of the HackMaster game, and I highly recommend it.
Why not check it out? You can learn more, and get the free download, at the KenzerCo site here.